Rising Chinese actor, Xu Kai (許凱), of "Story of Yanxi Palace" (延禧攻略) fame can't seem to catch a break lately.  The rumors started from him battering his ex-girlfriend, to staying over at a rumored girlfriend's place, to putting up a front at the Hong Kong airport, and now playing basketball with a female.
Yu Zheng Responds to Clip of Bai Lu Pinching Xu Kai's Butt
Rumored Couple Xu Kai and Bai Lu are Paired Up Again in "Arsenal Military Academy"
Xu Kai Checks on Fan After She Gets Hit by Basketball
Netizens Criticize the Two Actresses Who Shooed Away Xu Kai for Photobombing Their Selfie
Wu Jinyan and Xu Kai Land in Taiwan to Promote "Story of Yanxi Palace
The actor shared a short clip of him and another male friend playing 1 on 1 basketball at night.  He also included this caption with the video: "Went for a walk, played some basketball, then my leg cramped up."
Xu Kai's Past Dug Up by Netizens Again
Xu Kai and His Ex-Girlfriend's Turbulent Relationship Revealed
Click on the picture to see the clip: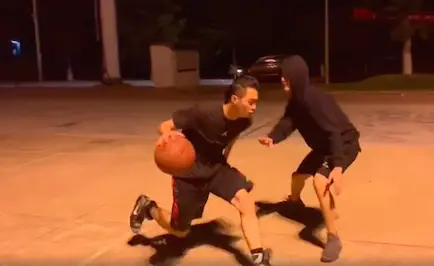 "Story of Yanxi Palace" Actor, Xu Kai Bows and Apologizes for "Cold" Demeanor
Xu Kai Creates Funny Mistake Signing An Autograph
When he makes a shot, there is a seemingly female voice that goes "Woo!" at the end of the clip.  Of course this rattled many of his fans asking who was the female screaming.  They suspected the female voice was the one filming the video.  I guess this garnered so much attention that Xu Kai had to post a reply to say the voice belonged to a man to appease his fans.  
Credit: hk.on.cc, Mrs_锦姑娘, Xu Kai Weibo