Rising actor, Xu Kai (許凱), known for portraying "Fu Heng" (傅恒) in the popular Chinese palace drama "Story of Yanxi Palace"《延禧攻略》arrived in Hong Kong two days ago to film a TVB special with the rest of the cast.  Xu Kai, who got popular for portraying an infatuated and loving man, was criticized for being cool and cocky when he arrived in Hong Kong.  He didn't interact with the fans and wouldn't accept their presents.  This is a stark contrast compared to his co-stars, Qin Lan (秦嵐) and Wu Jinyan (吳謹言).
Xu Kai Stars in Chinese Movie Remake of K-Drama "Autumn Fairy Tale"
Netizens Criticize the Two Actresses Who Shooed Away Xu Kai for Photobombing Their Selfie
Wu Jinyan and Xu Kai Land in Taiwan to Promote "Story of Yanxi Palace
Xu Kai Wanted to Leave Upon Seeing "Her" on "Happy Camp"
Xu Kai and His Ex-Girlfriend's Turbulent Relationship Revealed
There were about 30+ fans waiting for Xu Kai at the airport, not really that much compared to other celebrities.  He came out of the gates wearing sunglasses, cold expression, and didn't speak to anyone.  When fans would call his name, he would just take a look.  His crew expressed he wasn't taking any interviews.  When asked if it was his first time in Hong Kong, he nods his head.  The reporter asks Xu Kai whether he's dating mainland actress, Bai Lu as it was rumored he stayed over at her house.  He doesn't respond.  
BTS Clips of "Story of Yanxi Palace" Cast in Hong Kong Promoting Series with TVB
Once he heads to the parking lot, he takes off his sunglasses.  Fans are calling him and he replies with a faint smile.  When Xu Kai gets to the hotel in Tseung Kwan O, he is seen wearing a black mask.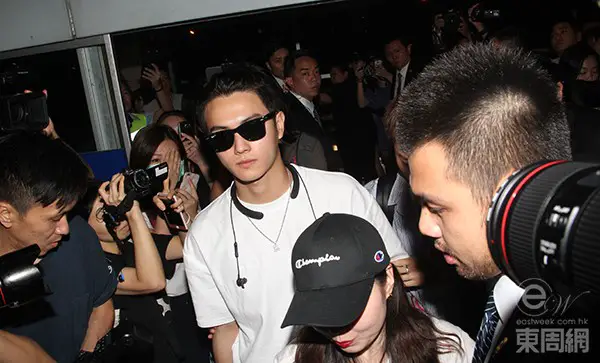 Xu Kai's Past Dug Up by Netizens Again
Was Xu Kai Playing Basketball with a Mystery Female?
When interviewed about his "cold" demeanor the next day, Xu Kai responds, "I was surprised and startled.  Also, I am apologetic for one thing.  Yesterday, I was a bit tired after getting off the plane.  I've been so busy lately that I wasn't able to rest well.  On the plane, someone had to wake me.  I didn't even know we landed.  So I got off the plane feeling a bit weary and was startled a bit when I saw so many people.  I was not feeling so well because I was so tired from working the past few days.  So that's why my head was down.  Probably led everyone to misunderstand." 
Xu Kai proceeds to take a slight bow and apologizes twice.  He continues, "Due to my carelessness yesterday, it led the Hong Kong media to think there was something wrong with me, but that's not the case.  I should really apologize to the media here."  He takes another slight bow and apologizes.  He continues to emphasize, "Because lately, I've been very tired.  Everything is so rushed that I haven't sleep well.
When asked about his rumors, Xu Kai politely deflects and requests the media to focus on his work.  
Watch the video from ETtoday of his interview and apologizing for his behavior: https://boba.ettoday.net/category/229/108996
Watch the video from Eastweek Magazine and hear a few of the paparazzi breaking out same Cantonese swear words: https://eastweek.my-magazine.me/main/81612 
Credit: ETtoday.net, hk.on.cc, Eastweek Magazine