It has been reported 38 year old Hong Kong actress, Cecilia Cheung (張栢芝), has given birth to her third child, a son, on November 25th.  The mom of two had actually posted a video with a little girl on her Instagram in February of this year with the caption: "She's too cute.  Before 2018 ends, I must have a baby.  This is my goal!"  Unfortunately her account is now private and no longer has any posts.  
Cecilia Cheung Teases Picture of Baby Marcus in One Year Birthday Celebration Video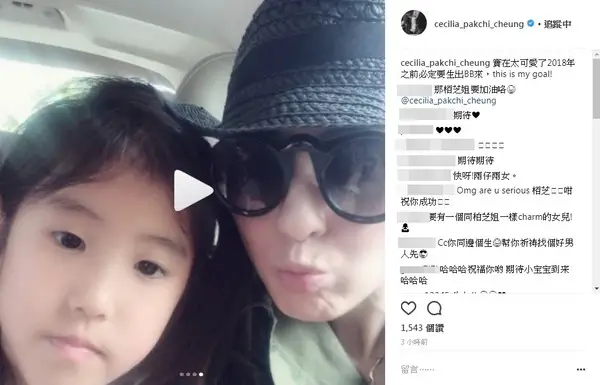 EEG Addresses Discord Rumors between Nicholas Tse and Eldest Son, Lucas Tse
Cecilia Cheung was married to celebrity Nicholas Tse (謝霆鋒) until their divorce in 2011.  She has been taking care of their two children, Lucas and Quintus, previously in Singapore and now back in Hong Kong.  Back in March, Cecilia Cheung's mother had revealed her daughter was being pursued by a wealthy 65 year old Singaporean businessman.   It is said he is a shareholder of a Singaporean fast food chain corporation and also has a publicly traded company in Singapore.  He is said to be the father of Cecilia Cheung's third child. 
Cecilia Cheung Officially Announces Birth of Third Son
Security Guard Films Nicholas Tse Changing and Exposes His Matching Tramp Stamp with Faye Wong
Reporters have been waiting outside the hospital for days, but haven't seen Cecilia Cheung or her family yet.  Her manager, Emily, appeared at the hospital, but when asked about the news, she said, "No comment."  Cecilia Cheung's mother appeared at the hospital today and when the reporters asked if she was visiting her daughter, she said, "No, I am just seeing the doctor."  As for Cecilia Cheung's ex-father-in-law and veteran actor, Patrick Tse (謝賢), he said, "I don't know.  I haven't seen her in so long.  I'm not going to talk about it.  Help me congratulate her."  
Ex-husband, Nicholas Tse, was first approached by Apple Daily at an event today.  When asked about the pregnancy news, he smiled and said, "I won't comment.  Thank you."  Later on he was approached by Oriental Daily News when he was returning home.  When asked about Cecilia Cheung giving birth, he responded, "I don't know."  On whether he has seen her recently, Nicholas Tse shook his head and quickly went upstairs to his abode.  
Credit: hk.on.cc (1, 2), Apple Daily (1, 2, 3),  Cecilia Cheung Weibo