Back in April, there were rumors that iQiyi was creating a female version of "Idol Producer" or "Qing Chun You Ni" (青春有你) for its second season. Lists of supposed contestants was circulating around the Chinese discussion boards at the time. There are more concrete news about the female version as iQiyi had a sales conference today announcing their plans for future variety shows, including female "Qing Chun You Ni." A poster for the female version of "Qing Chun You Ni" with a pink background has already been created. Someone who attended the conference uploaded a clip of the teaser for the female version "Qing Chun You Ni."
C-Netz Ecstatic over BLACKPINK's Lisa Joining "Qing Chun You Ni 2" as a Mentor
Rumored Mentor List for Female Version of "Qing Chun You Ni" / "Idol Producer 3" Being Circulated
Watch the trailer for female "Qing Chun You Ni" here: http://t.cn/EoQU3wz?m=4370060917277787&u=5885526534
iQiyi Rumored to be Creating Female Version of "Idol Producer"
A list of ten iQiyi variety shows was circulated online recently. The first show on the list is female "Qing Chun You Ni" or now referred to as "Qing Chun You Ni 2" (青春有你2). The rumored mentors include Hong Kong celebrity, Miriam Yeung (楊千嬅), Hebe Tien (田馥甄) of S.H.E., Luhan (鹿晗), and TFBoys', Karry Wang Junkai (王俊凱). The list also stated the show is expected to air in the third quarter of this year, but there is no official confirmation yet. The rumor back in April stated iQiyi wanted to wait after Tencent's "Produce Camp 2019" (創造營2019) finished airing to avoid competition.
"Idol Producer 2" Finale Debuts New Group "UNINE"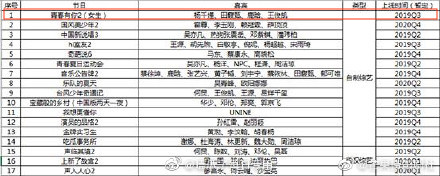 Casper Withdraws from "Idol Producer 2"
Aside from "Qing Chun You Ni 2", iQiyi also announced reality shows for Nine Percent called "More Than Forever" (限定的记忆) and UNINE called "Wo Xiang Geng Dong Ni" (我想更懂你).
Credit: ETtoday.net, Weibo (1, 2, 3)