Ever since "PRODUCE 101 JAPAN" was announced, many people were curious about how the trainees looked. When the trainees were first revealed, there were mixed reactions from all fandoms. Some netizens felt the looks of the trainees were not up to par with the Korean or Chinese spinoffs of the show. Chinese trainee, Zhou Rui (周锐), from "Idol Producer" was dug up by a Korean netizen and praised for his beauty. The netizen wrote, "Speaking of PRODUCE JAPAN, Korean and Japanese males need to step aside. China's appearance is the best because all of a sudden there is a "pretty" long haired boy.
"PRODUCE 101 JAPAN" Debuts 11 Member Group, "JO1"
"PRODUCE 101 JAPAN" Has Started Filming in South Korea
Chinese Actor, Wang Baoqiang, Accused by Ex-Wife, Ma Rong, of Assaulting Her
Japanese trainee, Nakagawa Ginsuke, caught the attention of netizens after his solo video was released. A netizen thought he looked like a mix between Taiwanese artist, Aaron Yan (炎亞綸), and Chinese actor, Wang Baoqiang (王宝强). Netizens left comments saying, "This contestant looks like Wang Baoqiang and Aaron Yan combined.", "Eyes like Aaron Yan, but looks like Wang Baoqiang when he smiles.", "At first glance, he does look a little bit like Yalun gege, but he still looks like Teacher Baoqiang a bit more."
Aaron Yan Forced to Sing Fahrenheit's "Only Have Feelings For You" After Losing Bet to Wu Zun
Aaron Yan and Lai Kuanlin Show Brotherly Love to Wu Zun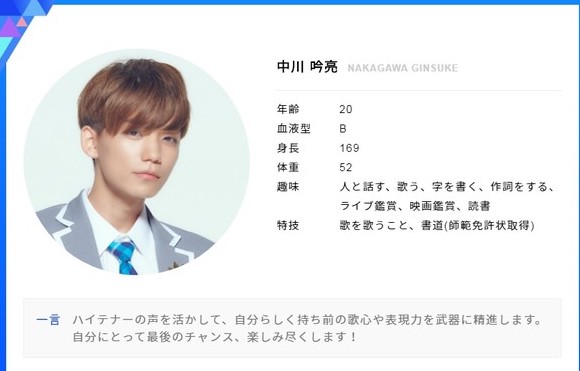 Fan Felt Like Third Party After Bringing Boyfriend to See Idol, Aaron Yan
After the video of Nakagawa Ginsuke was shared, netizens quickly looked up his information and discovered he is a teacher. Netizens left comments such as, "This trainee is a teacher.", "Looking at him like this, he looks really cute.", "Looking at him like this he doesn't look like [Wang Baoqiang and Aaron Yan].", "Wow, a teacher's celebrity dream."
Do you see the resemblance?
Credit: ETtoday, Weibo (1, 2), Aaron Yan IG