Since Hawick Lau (劉愷威) and Yang Mi (杨幂) announced their divorce last year, he has kept a low profile and hasn't had any dating rumors. The times paparazzi have spotted Hawick Lau was when he was either shopping for his daughter or picking her up from school. Yang Mi, on the other hand, has been involved in dating rumors a few times already.
Kenneth Ma and Roxanne Tong Announce They're Dating
A Walk Down Memory Lane to Hawick Lau's Dating History
It looks like it's Hawick Lau's turn to get involved in dating rumors. According to Hong Kong news outlet, Next Media, they claim Hawick Lau is secretly dating TVB actress, Roxanne Tong (湯洛雯), 13 years his junior, after being setup by Rosina Lam (林夏薇) at a gathering at her place earlier this year. Next Media says they don't want to reveal their relationship because his divorce is still fresh and wants to maintain his image.
Roxanne Tong Promoted to Female Lead in New Costume Drama with Edwin Siu and Sammy Sum
The reports continue saying Hawick Lau traveled with Roxanne Tong to England and France in May. Rosina Lam and Roxanne Tong became good friends after starring in the series, "Daddy Cool" (逆緣). The reports claim Rosina Lam lent her Victoria Peak mansion for them to use as a love nest and arranged a car to pick them up. Next Media also says Hawick Lau would often pick up Roxanne Tong to go on dates in Shenzhen as he is always working in the mainland.
Roxanne Tong Addresses Marriage Rumors Between Her and Kenneth Ma
Roxanne Tong Denies Dating Elaine Yiu's Ex-Boyfriend
Reading all this already sounds so bizarre. There aren't any interactions between the two. At Rosina Lam's birthday gathering in July, Roxanne Tong wasn't present either. When Sina Entertainment reached out to Hawick Lau's team about the dating rumors, a staff member expressed, "Fake, completely fabricated." No word from Roxanne Tong yet, but it probably won't be needed as this dating rumor is just not plausible.
Roxanne Tong Being Overshadowed by Younger Sister with Her Good Looks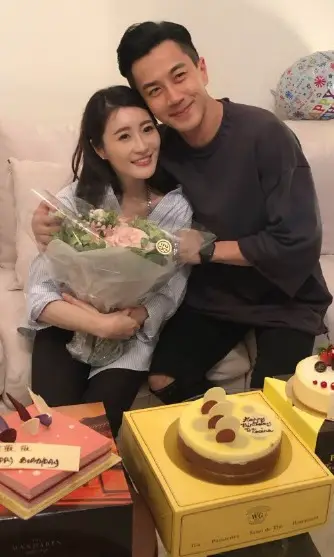 A Look at Hawick Lau and Yang Mi's Seven Year Relationship
UPDATE:
Hawick Lau's father, Lau Dan (劉丹), spoke to Oriental Daily News and said, "There's no such thing!". Rosina Lam said, "So bizarre. Why would there be such a news?". As for her setting up Hawick Lau and Roxanne Tong together, she said, "Of course no such thing happened. I won't respond to untrue matters." Roxanne Tong also denied the rumors and said, "I'm single right now. The reports are not true. We are just normal friends."
Credit: Next Media, hk.on.cc (1, 2), Weibo (1, 2, 3), Rosina Lam IG, Roxanne Tong IG