Many Chinese celebrities have been busy flying to either Milan or Paris for Fashion Week. Nana Ouyang (歐陽娜娜) and Arthur Chen Feiyu (陈飞宇) were also recently invited to Paris Fashion Week. However, it seems they did more than just sitting front row at the fashion shows. The topic "Nana Ouyang and Arthur Chen Fei Yu Paris" was trending on Weibo today when a netizen uploaded pictures of Nana Ouyang and Arthur Chen Feiyu shopping together in Paris.
What's the Deal with Nana Ouyang and Arthur Chen Feiyu…Are They Dating or Not?
A netizen recently posted about her encounter with Nana Ouyang an Arthur Chen Feiyu at the Galeries Lafayette Department Store in Paris. She said she noticed Arthur Chen Feiyu first and then saw Nana Ouyang appear. She claims Nana Ouyang's assistant noticed her and two of her other friends. So she immediately brought Nana Ouyang away. However, because Nana Ouyang was brought away so quickly, she couldn't get a picture of Arthur Chen Feiyu and Nana Ouyang together in time. Another netizen also claims she saw them shopping at Balenciaga.
Nana Ouyang Temporarily Bids Farewell to Showbiz For School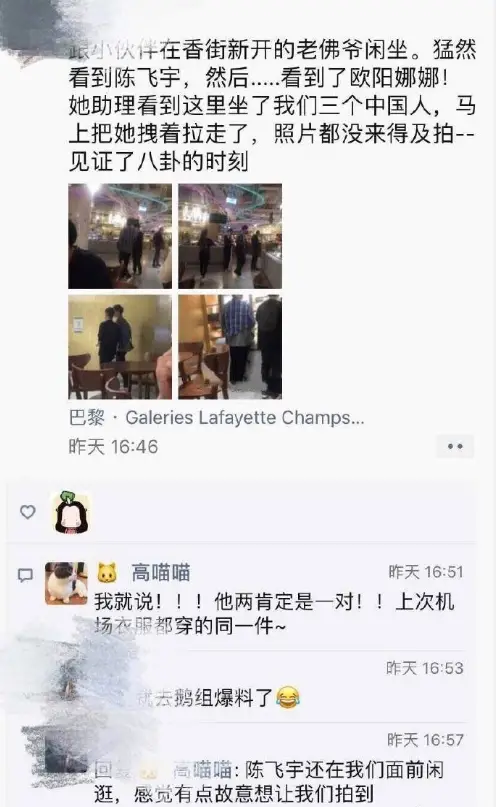 Leo Luo and Arthur Chen to Portray the Dynamics between Master and Disciple in New Series, "Immortality"
This isn't the first time Nana Ouyang and Arthur Chen Feiyu have been rumored together. Surprisingly, many netizens are actually in support of them dating. Many netizens said, "If you're together, then announce it." However, there were also netizens who felt they were just two friends hanging together. They were recently rumored when it was discovered Nana Ouyang wore a military green jacket that Arthur Chen Feiyu wore back in April 2018. Then netizens discovered they unfollowed each other on IG and started deleting posts on Weibo.
"Immortality" Lead Screenwriter Addresses Accusations Romantic Scenes were Added for Female Supporting Character and the Two Male Leads
It's unclear when those netizens encountered the two of them. Nana Ouyang was already in Paris from September 23 – 25th for Saint Laurent. Arthur Chen Feiyu flew to Paris on September 26 and walked the L'Oreal runway on September 29. Nana Ouyang hasn't updated her Instagram or Weibo since September 25. So could there be some truth to them really being together in Paris?
Nana Ouyang Addresses Dating Rumors with TFBoys' Roy Wang Yuan
Nana Ouyang and Arthur Chen Feiyu Spark Dating Rumors Again Because of Posts with Similar Backgrounds
However, a new picture surfaced today. This netizen claims "The "CP" I saw is real." Does it look like them?