Bernice Liu (廖碧兒) is 40 years old this year and had once said she doesn't care if she doesn't get married and wouldn't want to get married just for the sake of being married. Last March, she admitted to dating wealthy businessman, Calvin Lo (盧啟賢). At one point, there were rumors Calvin Lo was back with his Thai heiress lover, Nina, making it seem like Bernice Liu was the third party. In order to prove that she wasn't the third party, Bernice Liu was seen having high tea with Calvin Lo at the Four Seasons Hotel. However, last July, she announced the two had broke up, but remained friends.
Bernice Liu's Ex-Boyfriend Rumored to be Back with Old Lover
Calvin Lo and Nina:
https://static.appledaily.hk/images/e-paper/20191007/large/1570444401_f987.jpg
Sunny Chan and Sheren Tang Play a Married Couple in New ViuTV Series, Bernice Liu and Alex Lam Gets Entangled in Their Relationship
Since their break up, Calvin Lo was seen eating at a restaurant with host, Vivian Lau (劉明軒), and other friends in March. As for Bernice Liu, she was rumored to have secretly married rich French winery owner, Jean-Charles Cazes, but she denied it.
Bernice Liu and Power Chan Go Head to Head in ViuTV's "Showman's Show"
Shaopin Tsui and Bernice Liu Got Along Well While Filming "Till Death Do Us Part"
It seems Bernice Liu kept her word as she was recently seen dining with someone looking like Calvin Lo at a restaurant at The Landmark, Mandarin Oriental Hotel. An Apple Daily HK reader sent in pictures and a video clip of them dining together. She expressed, "Around 1PM today, we bumped into Bernice Liu with a man being intimate and eating lunch." She confirmed the identity of the man to be Calvin Lo after comparing pictures and seeing that he had on a scarf, which he normally wears. Bernice Liu had also posted an IG story from earlier today tagging The Landmark, Mandarin Oriental Hong Kong, proving she was there.
Bernice Liu Rumored to be Marrying Wealthy Ex-Boyfriend, Calvin Lo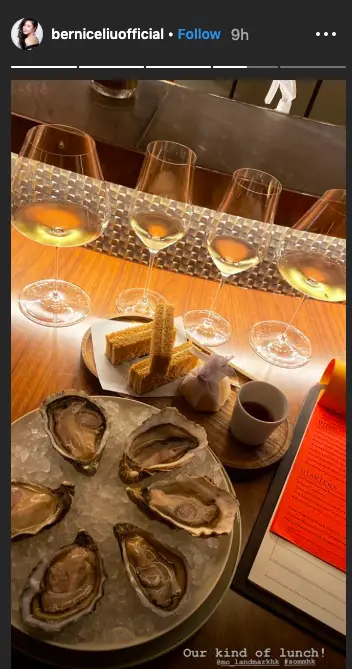 Click to see the pictures:
https://static.appledaily.hk/images/e-paper/20191007/large/1570444398_48b7.jpg
https://static.appledaily.hk/images/e-paper/20191007/large/1570444398_f8de.jpg
https://static.appledaily.hk/images/e-paper/20191007/large/1570444400_3c6f.jpg
She continued saying, "They were eating and drinking. Later on, a Japanese chef came over to wish Calvin a happy birthday. He drank until his face was red." The reader also says Bernice Liu was talking about the current events in Hong Kong and would use Cantonese and English during the conversation. The reader says when she left around 3ish, Bernice Liu and Calvin Lo were still there.
It looks like Bernice Liu might be in a relationship. Back in August, she posted a picture saying, "Date Night".
During Mid-Autumn Festival, she spent it at the Peninsula Hotel in Paris. Could they be reconciling their relationship?
Credit: Apple Daily HK, Bernice Liu IG