Picking up or sending off celebrities at the airport is a staple in Asian fan culture. Often times, fans want to catch a glimpse of their idol because that is the closest they'll ever get to seeing them. Because of this culture, there is a now a booming industry in China where "substitute photographers" (代拍) are also at the airport taking pictures of celebrities to sell to fans or to gossip bloggers who want to gain more views. In recent times, there have been confrontations between these "substitute photographers" and real fans fighting over spots. Words are often exchanged in these standoffs. However, It got violent in a recent incident when a "substitute photographer" attacked an Angelababy fan at the airport.
Angelababy Sparks Backlash for Photoshopping Picture of Herself at Event She Couldn't Attend
It's reported a female fan was picking up Angelababy at the airport today. There is always a crowd wherever Angelababy is due to her popularity. It's said that the combination of fans and these photographers were trying to get a good position to snap photos of her that they blocked the passageway. Due to the congestion, Angelababy had to be escorted by staff members and bodyguards to try and head for the exit.
Angelababy Dispels Divorce Rumors with Birthday Greeting to Huang Xiaoming
As people are crowding around Angelababy, it's alleged that a female fan was blocking the view of a substitute photographer, which led to words being exchanged. However, things escalated when the man knocked down the fan's camera and pushed her against the escalator railing and strangled her neck.
Angelababy Gives Heartbreaking Response When Asked if She Has Ever Thought about Quitting Showbiz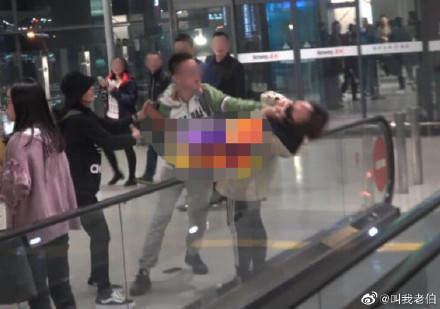 Angelababy Gives Surprising Response on How She Feels about Her Haters and Negative Comments
An eyewitness at the scene said Angelababy immediately went to help the fan and was worried about her safety. It's reported Angelababy walked with the fan for a bit and kept turning her head to see if she was okay.
Angelababy Gets Candid about Being Known Only Because of Huang Xiaoming and Not Having any Notable Works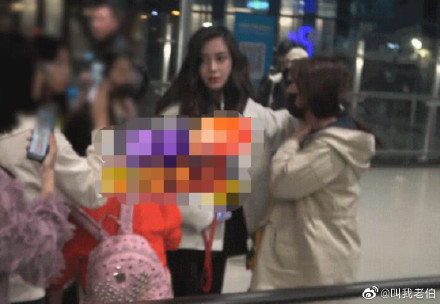 Netizens Debate about Angelababy's Appearance from Her Modeling Days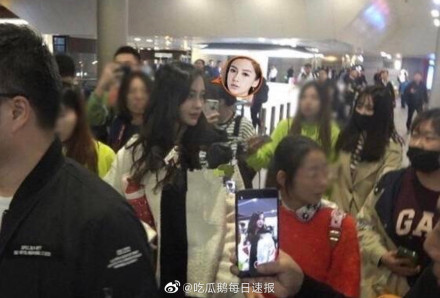 Netizen Calls Angelababy a "Disgrace" at Paris Fashion Week Because of One Picture
It's unknown what happened to the substitute photographer or whether the police was called. Once word got out about this incident, many netizens were shocked and urged people to be careful when chasing after stars. A netizen identified this substitute photographer and says he gets celebrity autographs and sells them for 200-300 RMB. Many netizens also praised Angelababy for her actions in trying to diffuse the situation and making sure the fan was okay.
Angelababy Shows Off Curves in "Placemat" Dress