Huang Zitao (黄子韬) is a crowd pleaser and usually likes to interact with his fans. He was one of the guests at Hunan TV's 2020 new year eve concert. He performed two songs. While he was performing his second song, he went off stage to interact with his fans and even took selfies with them. One particular male fan was super enthusiastic and attempted to kiss Huang Zitao while taking a selfie.
Huang Zitao was Mistaken for a BTS Member
Huang Zitao Dreams of Openly Dating in Public
Huang Zitao Reveals He Has Someone He Likes
During his second performance, Huang Zitao walked off stage. He was interacting really close with his fans, including hi-fives, handshakes, selfies, etc. While he was taking a selfie with a male fan, he did a kissing pose against Huang Zitao's cheek. There didn't seem to be any contact, so Huang Zitao didn't seem alarmed or retreat from him.
Huang Zitao Puts Media on Blast for Falsely Reporting Him Bringing Two Women Back to a Hotel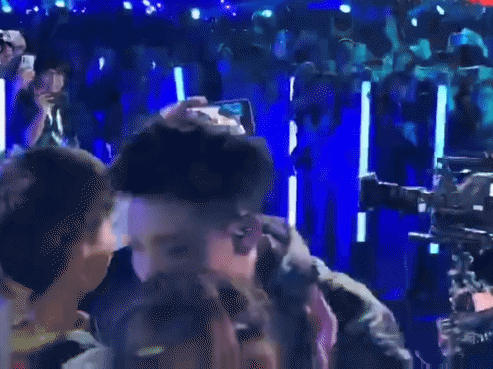 Sasaeng Fans' Conversation with Huang Zitao and Kris Wu When They Were Still EXO Members Leaked
Fans had uploaded this interaction on Weibo and the topic, "Male fan kisses Huang Zitao", started trending. Netizens left comments saying, "Not his fan and I'm even a bit envious.", "I'm sad.", "Huang Zitao, begging you to please protect yourself well.", "Leaves after kissing!", "Chase after your stars rationally, you can't harass Tao Tao.", "Is he crazy? Such guts.", "This isn't the right behavior. Respect people, okay?".
Huang Zitao Tells Fans Not to Call Him Husband