Thai actor, Bright, was caught in the middle of a scandal in April when his girlfriend, Weeraya, retweeted a Tweet that alleged China created the COVID-19 virus in a lab in Wuhan. Chinese netizens felt insulted and disrespected by her retweet. What ensued was a social media war that transcended countries and turned political. Bright received a lot of backlash from the incident as he didn't address the issue right away, which many Chinese netizens took his silence as a sign of him agreeing with what had transpired. On June 20, he was accompanied by Thai host, Wave, who translated for him in his apology video. However, Wave is now receiving backlash from fans saying he forced Bright to apologize.
Thai Actor, Bright, Apologizes to China Over His Girlfriend's Twitter Scandal
Thai host, Wave, who is fluent in Chinese and Thai, was invited by Taiwan to host a travel show called "Uni-Thinking, Uni-Roaming" (台泰由你遊), that features travel destinations in Taiwan and Thailand. He also started off apologizing for referring to Taiwan as a country in the show in the beginning of the apology video. Despite Bright's apology, many netizens didn't accept his apology and told him to "get lost". Now there are some netizens accusing Wave had forced Bright to apologize.
BonBon Girls 303's Nene Denies Liking Bright's Post and Apologizes for Incident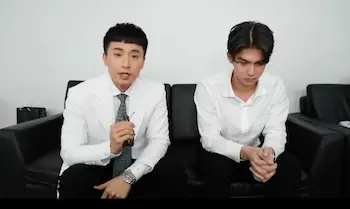 Bright and Win Partner Up Again in Thai Version of "Boys Over Flowers"
Wave was getting all sorts of comments on his social media accounts from angry fans who felt Bright shouldn't have had to apologize. There were also some netizens accusing him for his incomplete and inaccurate translation of what Bright said. Some even accused him of only apologizing with Bright because he received money.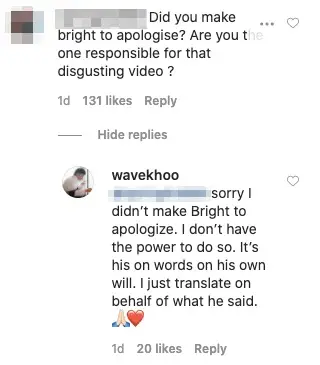 On June 21, Wave made a Weibo post addressing the accusations. He started off the post with a question from naysayers: "'Is there any value in apologizing to everyone after almost two months later? Is it sincere?' This is up to you to decide. I've only known Bright for three days. I really don't have any qualifications to speak for anyone. The main thing is there were a lot of fans who requested me to help them ask about this incident and let Bright speak what's on his mind. (I didn't get one penny from the company for this interview.) And I'll clarify it here, I am not an artist from this company. I am purely just doing this out of kindness to film this video for fans. I have no other motives. I am expressing my position here to everyone."

Wave also left comments on that post saying he didn't know about the "411 incident" and that fans were only asking him to get Bright to speak up about his position. He explains that he didn't lie about knowing Bright for only 3 days. He said the first time they met was an 8 person interview. The second time was at an event rehearsal. The third time was him hosting the fan meeting. Wave was the host for the Bright & Win's global fan meeting. He reiterates he didn't get paid at all and that he was only repaying fans for their past support and encouragement, which allowed him to "face Bright and GMMTV".