The love life of R1SE member, Ren Hao (任豪), has been a topic of great interest in recent months. The idol was trending last month when fans and netizens made a big deal about him hanging out with an internet celebrity. In the past couple days, Ren Hao was trending again when actress, Zhao Wenrou (赵温柔), made a post detailing her four year relationship with her boyfriend. Netizens were pointing to Ren Hao as the boyfriend and he quickly trended on Weibo. A day after, an internet celebrity by the name of Sue Xiaozi (Sue小姿) made a video alleging Ren Hao was dating her while he was still with his girlfriend, Zhao Wenrou.
R1SE's Ren Hao Admits to Hanging Out with Female Internet Celebrity After Fan Club Denies His Participation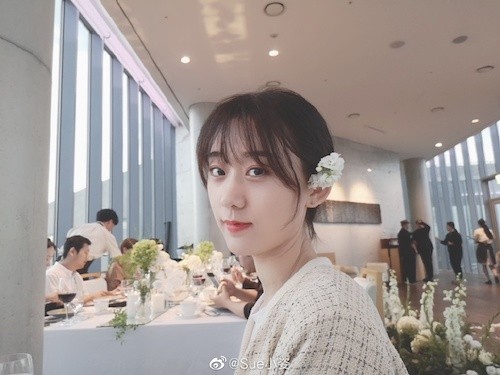 R1SE Gets Candid about Disbanding and Being a Time-Limited Group
Alleged girlfriend…
On October 14, actress, Zhao Wenrou, wrote a lengthy post detailing her relationship with an ex-boyfriend. She titled the post, "The boy in your mind". She starts the post going back to Autumn 2016. She met this person at a public event and they added each other on WeChat. After she returned to Shanghai from filming, he asked her out on a date. They had a meal and watched a movie. She said this person was very gentle and polite and treated her dog very well. After a week of consecutive dates, they were officially dating.
Wajijiwa Entertainment Warns Sasaeng Fans to Stop Harassing R1SE
Zhao Wenrou said she wasn't sure about his exact occupation, but found out later on that he was an artist signed to a company. During this time, her boyfriend said his situation at his company was unstable and he wasn't given any resources. He was under a lot of stress. Zhao Wenrou said she was still in Shanghai working to make a living. They both felt anxious about the future, but said, "The only thing real was our love." She was determined their futures would keep getting better and better, no matter whose career was developing.
"Produce Camp 2019" Debuts 11 Member Group, R1SE
From 2016-2018, Zhao Wenrou claims she missed out on a lot of good opportunities, but she did her best to fight for resources and connections to introduce to her boyfriend. She said she was willing to be the person who supported him from behind and hoped he could do whatever he wanted in his "limited youth". Zhao Wenrou said, "In order to realize his dream of becoming a member of an idol group, I protected him and did everything possible to conceal my identity as his girlfriend. Even though I felt wronged, but at the time, I felt as long as it helped his development and his company's requirements of him were worthy, I would do it without hesitation!"
Zhou Zhennan and Xia Zhiguang Address Fans' Complaints about R1SE's Anniversary Song, "Yao"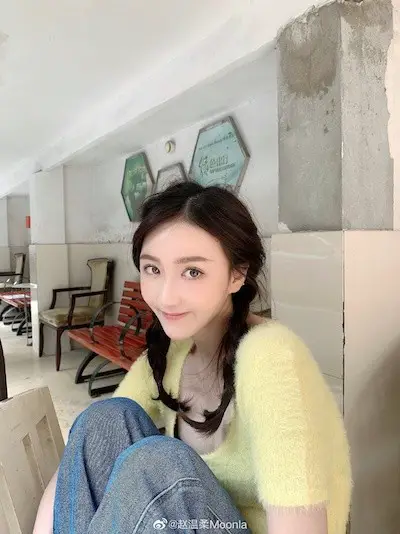 R1SE Member, Ren Hao, Apologizes for Recent Events Regarding His Personal Life
After losing out on two opportunities, Zhao Wenrou said he finally got his opportunity at a survival show in 2019. She believed in his promises to her and that as long as they stayed together, everything would get better. However, after he got really popular, Zhao Wenrou started having worries about their long distance relationship, pressure from his company, and voices around her.
Zhao Wenrou thought their "love was stronger than gold" and they could weather the storm. She said, "I didn't think that while I could go through the hardships with him, but he couldn't share the joys with me. He constantly lied to me and avoided me repeatedly. We broke up. We didn't survive through spring 2020."
Zhao Wenrou says she didn't regret anything, but says someone kept targeting her development and her career and wouldn't let her go. She claims someone "human search engined" (similar to doxxing) her family and friends and herself. She said she doesn't want to look into the past, but she said her life has been disrupted and made her feel uneasy because of all the malice directed towards her. She ended her post, saying, "What should I do?"
While Zhao Wenrou didn't name this person, netizens suspected it was Ren Hao.
R1SE's Ren Hao Raises Eyebrows with His Suggestions to Help Japan Dump Nuclear Wastewater into the Ocean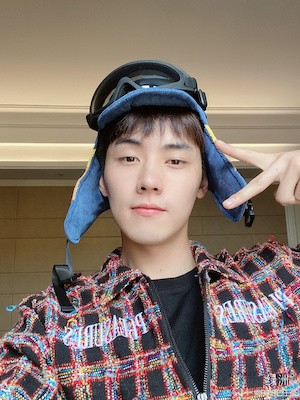 Internet celebrity's side…
Ren Hao made a post on October 15 at midnight about a story he heard about the ocean and the moon. Many people felt his post was in response to Zhao Wenrou's post. Zhao Wenrou's Weibo account name is her Chinese name, "赵温柔" and the word Moonla. His post read: "The ocean at night cannot be calm with its constant raging waves. The dark night makes the ocean even deeper and downcast until the moon appeared. Each wave doesn't seem so sharp. It turns out the moon has been affecting its ebb and flow all along, but the constant flows of the ocean has changed its shape to adapt to various terrain changes. All we can see is just the starlight above the ocean, but we've never seen the trench torn apart because the ocean water has buried it to the deepest place.
"Perhaps the moon can calm its appearance, but has no way of accepting that the moonlight cannot shine through the ocean trench. The ocean will never overturn everything in the trench either because it can see the countless craters on the moon. The ocean doesn't want to show these unbearable things to it. It also doesn't want to give all the roughness to the moon. So the sun came out, the moon left, and the ocean is also as calm as before."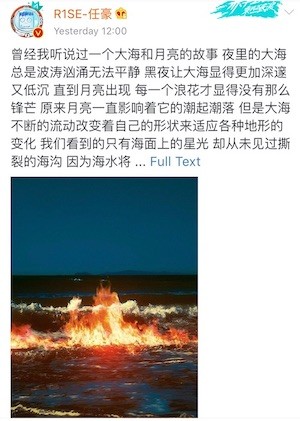 Hours later, an internet celebrity by the name of Sue Xiaozi made a post with the hashtag "Zhao Wenrou posts lengthy post" and said, "Speechless to the point I couldn't sleep…Broke up in spring 2020? You told me you didn't have a girlfriend at the end of January, but not dating…with last time's Escape Room situation, I thought you were just a pure ocean king. In the end you turned out to be a swindler!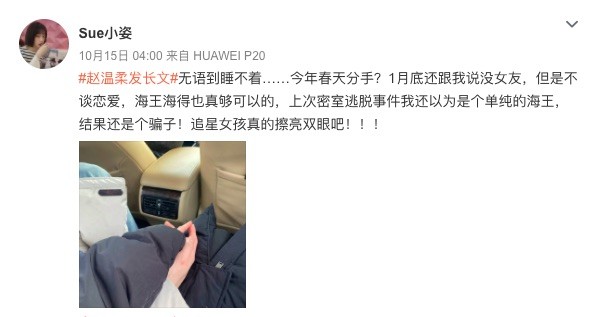 Sue Xiaozi also released a video calling out Ren Hao a few hours later. In the video, she said, "All the fans came and yelled at me saying, 'You're so ugly, would you really be worthy of his liking?'. You can say I'm ugly, but it's not okay to say I'm making things up." Sue Xiaozi then shows a video of a screenshot with a person named, "Li Tianqi". She asked this person to say the word, "nanami", and he recites it. Sue Xiaozi then explains his friend was the one who asked for her WeChat ID. They added each other and showed a picture from his Friend's Circle. She said she didn't know about domestic boy bands and really didn't know who he was. The first time they chatted, he introduced himself as "Li Tianqi" and worked as an interior designer.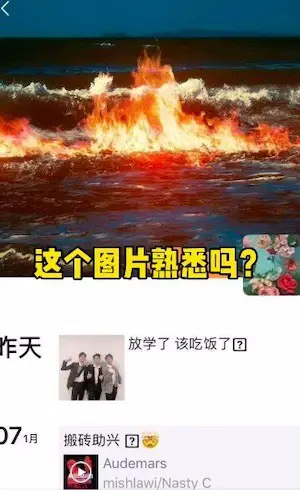 Sue Xiaozi claims they were supposed to meet each other in Beijing on January 29, but because of the pandemic, they couldn't go out. They just stayed home to watch videos.
Sue Xiaozi's video: http://t.cn/A6bp7EV8?m=4560399523909028&u=5391496457
Ren Hao hasn't made any further response to this allegations.