After a tumultuous 24 hours, R1SE's Yan Xujia (焉栩嘉) finally made a statement regarding cheating allegations made from two netizens claiming he was cheating on them at the same time. Yan Xujia was embroiled in a dating controversy on December 5 when a woman accused him of already being with someone when he was dating her, making it seem like she was the third party. She also claimed he kept ignoring her and would say disrespectful things towards his members and workers. Later that day, a second woman came forward and was seemingly claimed to be the woman who was dating Yan Xujia while he was dating the first girl who exposed all these things.
Netizen Claiming to be Ex-Girlfriend of R1SE's Yan Xujia Accuses Him of Cheating and Having Poor Attitude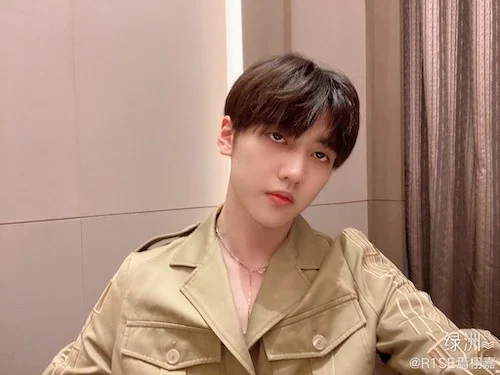 Yan Xujia's Ex-Girlfriend, "97", Accidentally Revealed She is an Actress, Screenwriter Shades Yan Xujia and Alleges There Were More Than Four Girls
On December 6, Yan Xujia made a statement, saying, "When we were together, I was wholeheartedly devoted. There was no existence of others outside of two people. Cherished each other's feelings, but also very regretful with the way I handled things that led to misunderstandings. The more I worried about causing pain probably created even more pain. Because of this, I sincerely feel guilty and sorry. In these past two days, I have deeply reflected and realized I wasn't mature enough to face love. In these next few years, I will focus on work and my studies and won't get involved in relationships. I want to say sorry to everyone who cared about me."
R1SE's Yan Xujia Denies Dating Rumors with Beijing Film Academy Student

The two girls also responded to Yan Xujia's statements.
In the second girl's (xxxfffff_97) latest statement, she said, "From the beginning until the end, it was just us two. I've already clarified things with "Little Box" (小盒鱼会喵喵叫吗)." She also explained the reason she and "小盒鱼会喵喵叫吗" didn't team up together was because, "This boy was once someone who I had nothing to pick about. He was a very good boy. I don't want to become into a perpetrator because I was hurt. The wonderful memories of two people when they were together shouldn't be used as a resource to hurt others."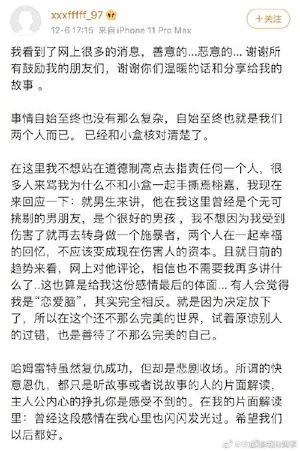 The first girl, "Little Box", also responded to Yan Xujia's statement. She said, "Dating a girl on one hand and then having an adulterous relationship with someone else. You, portraying the male lead in a three person movie, are you really "wholeheartedly devoted"? Saying you cherish this relationship and then you give me the silent treatment? You didn't want to respond to questions like "whether there is someone else?", "Can the relationship continue?". Are you really worried about hurting [someone]?"
During all this, there was also some back and forth between the first and second girls about the timing of the relationship and whether Yan Xujia was dating the both of them at the same time. "xxxfffff_97" later posted a picture and said to "小盒鱼会喵喵叫吗" ("Little Box"), "If this isn't me, then who is it?". This led to "Little Box" apologizing to her privately saying she really didn't know he was dating her at the time.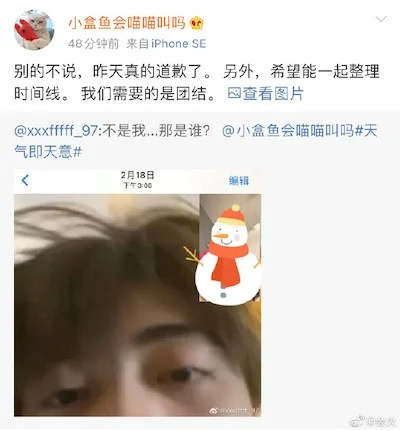 However, after seeing "xxxfffff_97" shade her by calling her a "perpetrator", the first girl responded by saying she only found out in September that he was dating someone else in January-March. Their relationship was only confirmed on May 16. He admitted it was only during this time that there was an "overlap" in the relationships, but said his relationship with the other girl was already in shambles. She didn't break up with him because she said his apology was very good and that he promised her 1) the previous relationship was already broken awhile ago 2) there was no one else 3) he wouldn't do it again.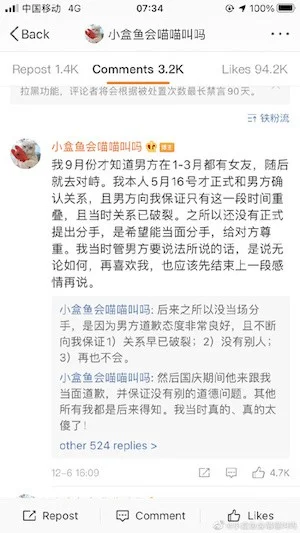 She also said about "xxxfffff_97", "In the beginning I already apologized. In the end, she said I didn't private message her. Afterwards, she talked to me. I agreed I wouldn't reveal the contents of the chat. Then she goes around and shades me saying I am a perpetrator. The timeline is clearly all out here. Then she goes off again deleting it and then says I am the real third party." She also responded to a netizen saying, "Perpetrator, not able to carry it. When she was talking to me, it wasn't this tone. Ai, I am really foolish."
"Little Box" had previously shown further proof of her relationship with Yan Xujia by showing a screenshot of her helping him with the grammar for a post about "Breathing".
Many netizens and fans were also curious about the first girl's claims about the disrespectful things Yan Xujia said to his members and whether it was from R1SE or X-NINE. The first girl alleges, "I won't say who it was, but the original word was "sb". I don't want to say the others, but I have a record of it." The word "SB" is an abbreviation for a Chinese curse word, "shabi" (傻逼), which means "stupid c*nt".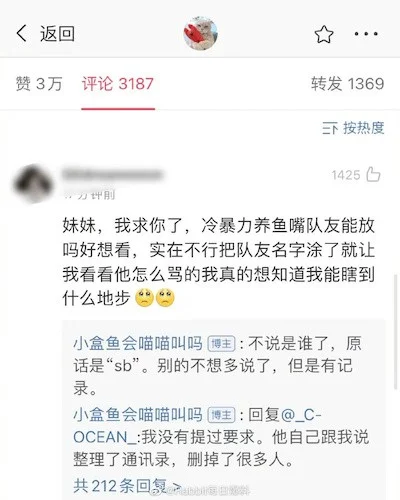 She also revealed Yan Xujia gifted her a Polaroid instant camera that was gifted by his fans who spent 600,000 RMB to win it for him. He was shown using it at this year's Super Novae Games.
Yan Xujia also apologized to his fans and Twelves on the group's official app. He wrote, "Garfields (jiafeimao) and Twelves, sorry for making you guys sad and worry." Fans discovered his apology post was only available to users who had a paid subscription. Many fans have decided to quit stanning him by taking pictures of their memorabilia being trashed in the dumpster.