Last December, R1SE member, Yan Xujia (焉栩嘉), was in a dating scandal where he was accused of cheating on two of his girlfriends that didn't know of each other's existence. It got messy when the two ex-girlfriends started debating who was the real third party and engaged in name calling. Yan Xujia issued a statement saying he was devoted to the relationship and that there was no third party. He also apologized for the way he handled things that led to misunderstandings. He pledged to focus on his work and studies in the next few years and not get into any more relationships.
Yan Xujia's Ex-Girlfriend, "97", Accidentally Revealed She is an Actress, Screenwriter Shades Yan Xujia and Alleges There Were More Than Four Girls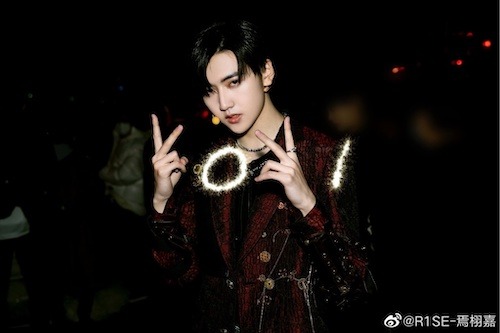 Netizen Claiming to be Ex-Girlfriend of R1SE's Yan Xujia Accuses Him of Cheating and Having Poor Attitude
On January 22, rumors started circulating Yan Xujia was in another relationship when netizens noticed the pictures of him snowboarding was very similar to those from a girl who also attends the Beijing Film Academy.
Ex-Girlfriends Respond to R1SE's Yan Xujia's Statement on Cheating Allegations
Second Person Claims to be R1SE's Yan Xujia's Real Girlfriend and Blasts First Girl for not Taking Action When She Discovered He Was Taken
They uploaded their pictures the same day and used the same emoji. Netizens later discovered they both follow each other on Instagram. She also liked a lot of his content.
However, Yan Xujia shut down the rumors saying, "Filming a vlog with my manager. Please stop creating rumors."