R1SE member, Yan Xujia (焉栩嘉), was trending on December 5 when a netizen claiming to be his ex-girlfriend released details about their relationship and accused him of cheating on her and giving her the silent treatment. Yan Xujia is the 7th R1SE member involved in some sort of scandal since October. The chain started with Ren Hao's cheating allegations, Xia Zhiguang's relationship exposed, Zhou Zhennan's parent's financial issues, Zhao Rang's cheating allegations, and Zhang Yanqi's dating rumors. He Luoluo didn't have quite a scandal, but was trending a few days ago when he was spotted going to an Escape Room with two female companions.
Ex-Girlfriends Respond to R1SE's Yan Xujia's Statement on Cheating Allegations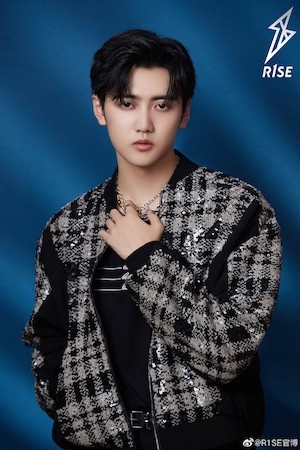 Second Person Claims to be R1SE's Yan Xujia's Real Girlfriend and Blasts First Girl for not Taking Action When She Discovered He Was Taken
Yan Xujia, "Feel Sorry for Long Danni", who is the CEO of Wajijiwa Entertainment, and R1SE were all trending Weibo at #1, 3, and 17 spots, respectively.
Yan Xujia's Ex-Girlfriend, "97", Accidentally Revealed She is an Actress, Screenwriter Shades Yan Xujia and Alleges There Were More Than Four Girls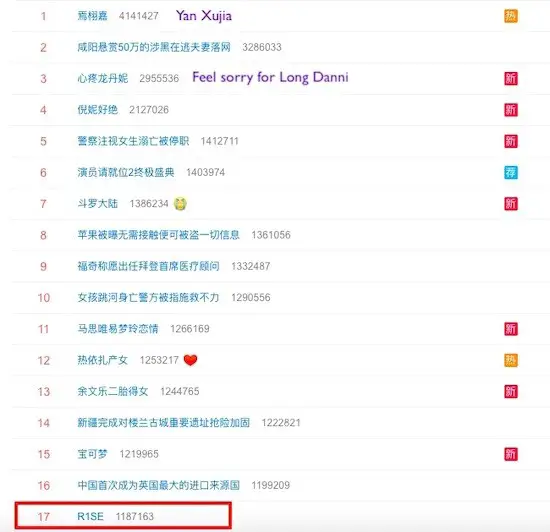 A netizen by the name of "小盒鱼会喵喵叫吗" shared photos of Yan Xujia and a girl allegedly kissing. She wrote a long post detailing their relationship. They were childhood friends and met each other again last November, but broke up this December. She then alleges that he cheated on her and accuses him of emotional abuse and giving her the silent treatment like not responding to her messages and not picking up her calls anymore. She accuses him of ignoring her pleas to talk things out and not having the audacity to say he wanted a breakup. She also wrote in detail about secretly staying with him for two months while he was filming.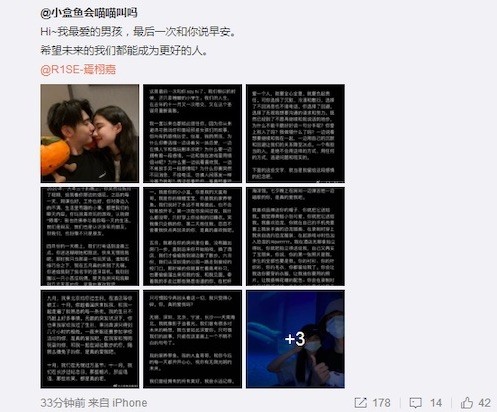 In a separate post, she said, "In your eyes, he is perfect. But actually, a lot of his words lack basic respect towards the people by his side, his members, and staff members. Not only were they personal attacks, but they also included a lot of private gossip regarding personal lives." In addition to that, she claims Yan Xujia violated the stay-at-home quarantine policies during the height of the pandemic, roamed outside freely in public spaces, and also used someone else's ID to go out and about. She also said Yan Xujia was maintaining a relationship with his ex-girlfriend while dating her.
In a third post, she said, "I directly asked you several times: Did you fall in love with someone else? Do you already have another relationship? You won't give me any answers. If you really didn't betray me, why won't you directly tell me, 'I didn't'. If you didn't do it, why don't you deny it? If you did it, then why won't you tell me clearly. We can part ways without any hard feelings.

I major in Law. I am very clear I need evidence when I say things. Everyone should rationally eat melons (gossip)."
In a fourth post, she said, "One more time, not a photoshopped picture. Really loved him before. Everyone needs to be rational." She included this live picture.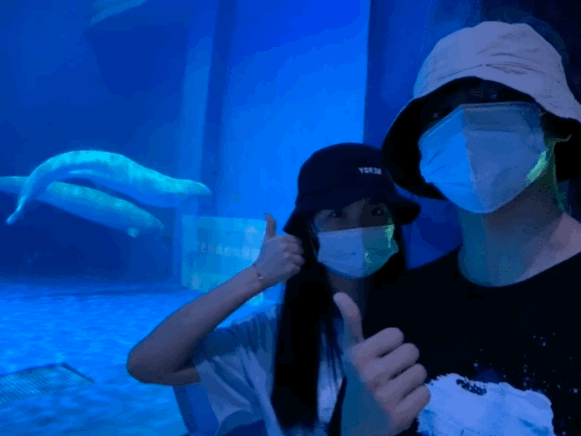 Yan Xujia, R1SE, nor Wajijiwa have responded to the allegations.