Chinese series, "Twisted Fate of Love" (今夕何夕), starring Jin Han (金瀚) and Sun Yi (孙怡), is currently airing. Sun Yi was recently interviewed about the series. When talking about the BTS on one of the kiss scenes in the series, Sun Yi expressed she had to complain about something.
Jin Han's Studio Issues Statement Denying Cheating Allegations and Privileged Family Background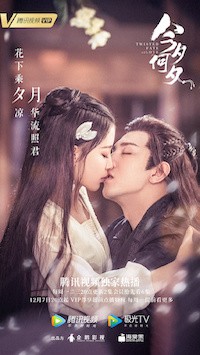 Zhang Zhixi Apologizes After Publicly Blasting Boyfriend, Jin Han, for Cheating on Her with Escorts
Sun Yi revealed a minute prior to filming one of the kiss scenes, Jin Han was still in his RV eating crawfish. She said, "After we filmed the kiss scene, my entire lips were numb because the crawfish he just ate was especially spicy." Sun Yi said this was the most memorable kiss scene and that she would never forget this in her life. She also jokingly thanked Jin Han for letting her indirectly taste the flavor of crawfish.
Jin Han Proudly Admits to Dating Actress, Zhang Zhixi
After Sun Yi's interview started trending, Jin Han addressed her complaints and said, "It is most convenient to take things out of context. It was very happy filming "Twisted Fate of Love". I apologize to Sun-laoshi for the areas where I didn't do well. I also wish Sun-laoshi's new song sells well! Yingxiaohaos (marketing accounts), stop while you're ahead."
Prior to this event, netizens had dug up images of Jin Han reportedly smoking prior to a kiss scene with co-star, Peng Xiaoran (彭小苒).