Lareina Song Zu'er's (宋祖儿) studio issued an apology on March 6 after netizens noticed her studio had uploaded a photo of her using the cover art from EXO member's Baekhyun's mini album, "City Lights". The backdrop is completely copied from Baekhyun's album cover as you can still see "SM Entertainment" on the side.
Are Ethan Ruan and Lareina Song Zuer Dating?
After Baekhyun's fans brought it up with Lareina Song's studio, the photographer in charge of the photoshoot apologized to Lareina Song, Baekhyun, and both parties' fans for the misdeed. He wrote, "It is my responsibility for giving Lareina Song's studio a picture that plagiarized Mr. Byun Baekhyun's solo album. It created trouble for both parties' fans. I sincerely apologize to Mr. Byun Baekhyun, Lareina Song, and both parties' fans. This type of incident won't happen again from now on. I am sorry to everyone." He also tagged the Weibo accounts of Baekhyun, SMTOWN, Baekhyun's fan clubs, and Lareina Song's studio.
Lareina Song Zuer's Team Denies Dating Rumors with Ethan Ruan After He is Spotted in Her Neighborhood
Lareina Song Zuer Responds to Drunken Disorderly Conduct Allegations
Lareina Song's studio reposted the photographer's apology and issued their own statement, saying, "First off, we must sincerely say sorry to everyone who was hurt by this unexpected mistake. The studio already took down the photo immediately and replaced it with the original photo. We will improve the internal audit process and verification system to prevent a similar incident from happening again. Once again, sorry everyone!"
Lareina Song Zuer's Studio Denies Rumors She is Secretly Married and Living with a Fuerdai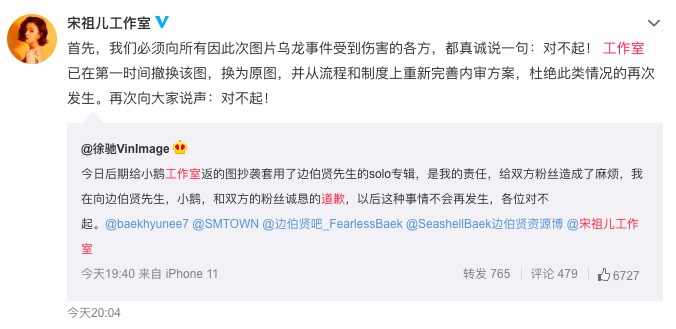 However, some fans felt the studio should've issued her own post and apologize to Baekhyun directly instead of reposting the photographer's post without naming him directly. Two hours later, the studio made another post apologizing to SM, Baekhyun, and Lareina Song directly and admitted to their negligence in the audit process leading to the mishap.
Credit: Weibo (1, 2), Baekhyun IG