Hua Chenyu (华晨宇) and Zhang Bichen (张碧晨) shocked the Chinese entertainment industry when they announced they had a daughter over a year old in January. Zhang Bichen revealed she gave birth to their daughter without Hua Chenyu knowing as they had already split up at the time. Because of this headline, many rumors started circulating about Hua Chenyu and his relationship with Zhang Bichen.
Hua Chenyu Once Contemplated Suicide
Hua Chenyu Doesn't Want to Limit Himself Being Labeled as Just a Singer
A director by the name of Zhou Guogang (周国刚) uploaded a video on Douyin claiming, "Hua Chenyu actually has another child with another lesser known female artist" on May 8. Zhou Guogang also made derogatory statements about Hua Chenyu calling him a "dandelion" as he is "spreading his emotions everywhere and sowing his seeds". Because of his video, rumors started spreading about Hua Chenyu having another child and yxh accounts started circulating it.
On the night of May 13, Hua Chenyu's studio issued a statement saying those rumors were slanderous and smeared Hua Chenyu's image. The studio said they wouldn't give up on going after those who made the rumors and would make them accountable. They wouldn't be accepting any negotiations or arbitrations. They also retained the services of a Beijing law firm to take legal action against Zhou Guogang for defamation and spreading the rumors about Hua Chen having another child.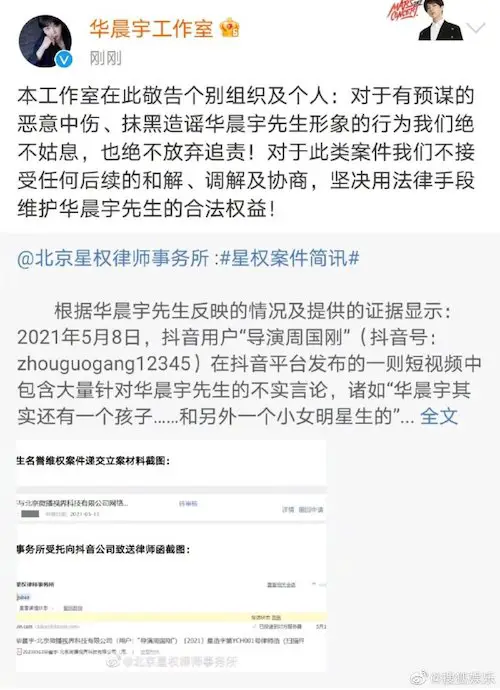 Hua Chenyu's party is asking for Zhou Guogang to delete the video, publicly apologize to Hua Chenyu, and to compensate for psychological damage and costs. As for the other Weibo accounts, the law firm states they are in the process of gathering evidence and will go through the legal channels to pursue accountability.