BY2's Yumi (孙雨) was accused of being a third party in Wang Leehom(王力宏) and Lee Jinglei's (李靚蕾) marriage when a netizen claimed Yumi was a third party in their marriage and old pictures of them at his concert afterparty were revealed. While both parties denied the rumors, Yumi ultimately admitted that she and Wang Leehom dated from 2012-2013, but emphasized that she never came between his marriage and deleted each other as WeChat friends in 2015. However, Lee Jinglei seemingly refuted Yumi's claims when she posted a picture of someone named Yumi with a racy profile picture and hinted that Yumi had switched from contacting Wang Leehom on WeChat to WhatsApp.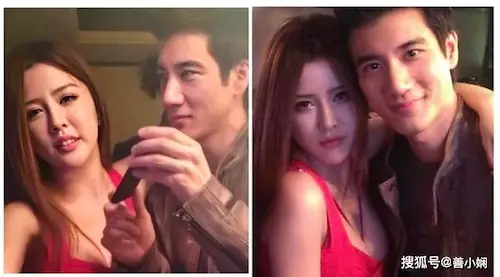 The saga seemed to have come to an end when Wang Leehom said he would take responsibility, apologized to Lee Jinglei, and announced his hiatus from work. However, two days after Wang Leehom made that announcement, Yumi was revealed to have attempted suicide when a netizen claiming to be her friend uploaded pictures of her at the hospital and was getting her stomach pumped. This friend also took the liberty to help clarify rumors on Yumi's behalf. The netizen who refers to herself as "007", says Yumi's profile picture from WhatsApp, "Just one look, you can tell it's a Westerner. Her (Yumi) body isn't as nice."
Text for Work?
However, on January 4, 2022, Taiwanese tabloid, Mirror Media, claims they got the exclusive access to the chat content from Yumi's 2015 text to Wang Leehom. Mirror Media only revealed their mockup of the supposed chat content and said they translated it from English to Chinese. According to Mirror Media, they said the chat between Yumi and Wang Leehom was about work:
Yumi: Hi there. How are you doing?
Yumi: Sorry to bother you. Haven't spoken to you in a long time, I am very happy you spent it well during this time. I want to ask you for a favor. We just released our 7th album, I was wondering if you had time to record a simple promotional video to be used for our upcoming Beijing media press conference. If you are willing to take time out of your extremely busy schedule to fulfill my wish, I will be extremely, extremely grateful. Thank you so much.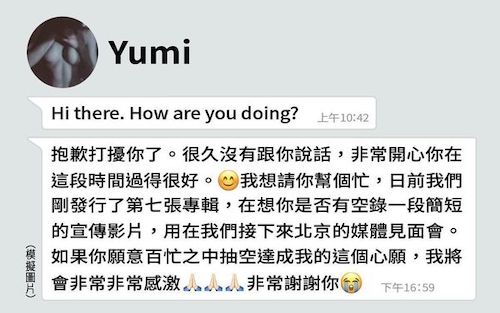 "007" Strikes Again
After this report came out, Yumi's friend, "007", claimed the photos from Mirror Media's report were photoshopped, explaining the profile picture can't be seen when you click into a chat in WhatsApp. She also said, "This trick is very awesome. Purposely photoshopped a nude photo as the profile picture. Looking at it, it seems to be helping to whitewash Yumi, but in an instant, the focus was shifted on the shameful 'sl*t-shaming' of nude photos.

What? It was Taiwanese media that produced the photo? What a coincidence that it was from the same group that first festered the 'Yumi's fake friend exposed the news'. So much money spent on this hot search. However, it wasn't careful enough. The edge of this profile picture and the one Ms. Lee posted previously aren't the same! Hurry up and go discuss it first then go photoshop it again or fabricate another video."
In the left photo: "007" says the edge of the profile picture doesn't match the original picture Lee Jinglei posted back in January, saying it was photoshopped. She also said the words "mockup photo" in the lower left corner needs to be bigger.
In the right photo: "007" said the corner of the picture from Mirror Media is a "bit" different from the one Lee Jinglei posted, insinuating the profile picture was photoshopped.
Credit: Weibo (1, 2), Mirror Media, Yumi IG