Chinese actor, Gao Yunxiang (高雲翔), was charged with sexual assault in Sydney, Australia back in March this year.  In addition to Gao, the victim has alleged there was another perpetrator involved in the abuse, Chinese national Wang Jing (王晶), a producer on the film.  He is not to be mistaken with the Hong Kong Category III director, Wong Jing (王晶).  
Gao Yunxiang and Wang Jing Acquitted of All Charges in Sexual Assault Case
Gao made bail on June 29, but he had to meet the the following conditions such as:
Stay in the home his wife, Dong Xuan (董璇) rented in Sydney. 
Report to the police twice a day, everyday
Surrender his, his wife's, and his young daughter's passports. 
Can't be near an airport
Can't contact the victim
House arrest everyday from 9AM to 5PM, wearing an electronic monitoring device
Pay bail in the amount of 3 million AUD
Gao Yunxiang Makes First Public Statement Since Sexual Assault Case
The next court case is scheduled for the 20th of this month.  However, on the 18th at 10AM, there was a bail hearing.  Compared to previous appearances, Gao seemed to be in good spirits, smiling, and even cut his hair, looking like he gained a bit of weight.  
Gao Yunxiang Escapes Life Imprisonment, Initial Two Charges Withdrawn
According to the Australian media, Gao's sudden appearance in court was to apply for a change in the bail terms, which was to lift the ban on Dong Xuan's leaving the country.  The courts granted this request, allowing Dong Xuan to leave Australia.  
Gao Yunxiang Hit with Seven New Charges in Latest Court Session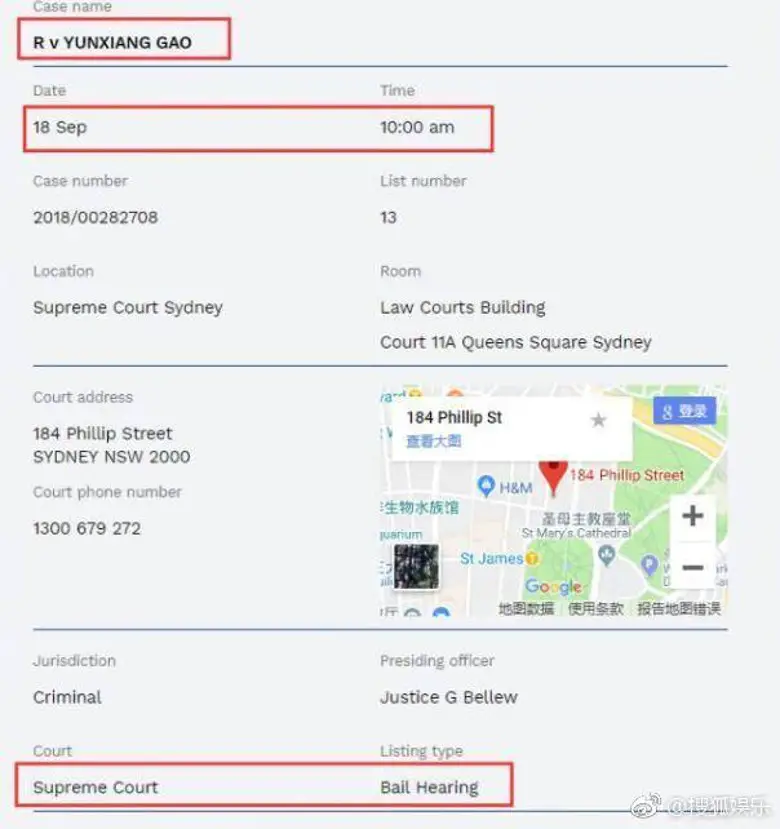 Credit: hk.on.cc