It has been rumored Chinese actress, Kitty Zhang (張雨綺), famous for being Korean actress, Song Hye Kyo's lookalike and acting in Stephen Chow's "CJ7" and "The Mermaid", was involved in a domestic violence brawl with her husband , Yuan Bayuan (袁巴元) during the Mid-Autumn Festival holiday.  The rumor states Kitty and Ya Bayuan had a serious argument, which turned into a physical altercation with the use of a fruit knife and ended up calling the police.  When the Chinese media attempted to contact Kitty's team, the workers would hang up the phone.
Kitty Zhang Shuts Down Plastic Surgery Rumors with Simple Response
A netizen uploaded what seems to be a police report detailing the case.  It states on the night of the 24th, around 10 PM, someone reported a fight where knives were used.  When the police arrived, they didn't find anyone holding a knife.  The police then treated the incident as a family dispute and brought the two parties to the station for further investigation.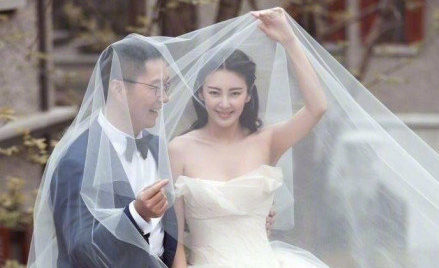 Kitty Zhang and Ex-Husband, Yuan Bayuan, are Publicly Feuding Over Child Custody Dispute
The report also states, "44 year old, Yuan Bayuan and his wife, Zhang Yuqi, due to a family dispute, got into a physical fight.  During the altercation, Zhang used a fruit knife and slashed her husband twice in the back resulting in two slash marks each measuring about 1 cm long .  Zhang denied holding a knife and through our on-site investigation, there was no knife found.  The case will now be handled by our district as a family dispute for mediation."
Kitty Zhang Jokes about Having Bad Taste in Men and Only Attracting Scummy Men Because of Her Looks
Kitty married her husband, who is said to be worth 5 billion RMB and works in the apparel business, in 2016.  The two had a set of twins, giving birth to a boy and a girl.  However, during Kitty's second month of pregnancy, it was rumored creditors came knocking asking Yuan Bayuan to repay his gambling debts amounting to 10 million RMB.  It was also said Yuan owed his workers around 4 million RMB in back wages.
Kitty Zhang's Dating History, Kitty Zhang: I Have Poor Taste in Men
She was previously married to Chinese director, Wang Quan'an (王全安) in 2011.  However, Wang Quan'an was caught several times soliciting prostitutes and ended up in jail.  When he got out of jail in 2015, the two announced their divorce.  A year later Kitty marries current husband, Yuan Bayuan, after dating for two months.  
Credit: hk.on.cc, ETtoday.net, Apple Daily