Popular Taiwanese actor, Liu Yi Hao (劉以豪), also known as Jasper Liu, has won the hearts of many Korean fans as he has quite the fan following in South Korea.  He has a nickname "Nation's Boyfriend" in Korea.  His movie with Vivian Sung (宋芸樺), "Take Me to The Moon (帶我去月球), was especially popular with Korean fans and brought him many visits to South Korea.  He even went on popular Korean variety show, "Superman is Back" and hung out with Seung Jae and Go Ji Yong.  Jasper Liu also seems to be friends with Korean entertainer, HaHa, as they have interacted on Instagram before and follow each other.
How Did Jasper Liu Get So Popular in South Korea?
Jasper Liu and His Female Manager Respond to Rumors They Were Vacationing Together in Japan
Jasper Liu and Lee Seung Gi are Shipping Themselves as a CP for Their Netflix Show, "Twogether"
Netflix Announces Air Dates for Joseph Chang's "Nowhere Man", Jasper Liu's "Triad Princess", and Chris Wu's "The Ghost Bride"
"He will get a discount."
It seems there is no fate between HaHa and Jasper Liu as HaHa and the "Running Man" cast were in Taiwan on October 5th for their fan meeting.  At the same time, Jasper Liu was in Busan attending the 2018 Busan International Film Festival (BIFF) for his popular remake of Korean movie, "More Than Blue" (比悲傷更悲傷的故事).  Cast members, HaHa, Kim Jong Gook, Jeon Seo Min, Sang Se Chan were interviewed by the Taiwan press and HaHa name dropped Jasper Liu's name.  Upon learning Jasper Liu was in Busan, Kim Jong Gook and HaHa says, "Liu Yi Hao can go to our BBQ restaurant in Busan.  He will get a discount."
Jasper Liu Complained about Puff Kuo Getting Too Close to His Private Parts while Filming "Before We Get Married"
Watch the "Running Man" interview below: 
Jasper Liu Yi Hao and Lee Seung Gi to Collaborate on a New Korean Variety Show
Jasper Liu, who found out through the news, contacted HaHa that night. The next night, Jasper Liu really went to HaHa and Kim Jong Gook's BBQ restaurant in Busan and took a picture as proof.  He posted the picture up with the following caption in Korean: "I came to find Brother HaHa, but he's not here.  So I took a picture and left."  
Jasper Liu Yi Hao Thanks Yoona for Helping Him Translate
It seems Jasper Liu can no longer walk the streets of South Korea alone as he was recognized by a bunch of fans at 11 something at night.  Upon seeing their idol, the fans were screaming.  Living up to his title, "Nation's Boyfriend," he signed the movie premier tickets for all his fans and even said "Sure. Can we take it together?" when a fan asked for pictures.  Today, there was also a movie premiere for their nominated movie "More Than Blue", which seats 5,000 people.  Within five minutes, all tickets were sold out, proving his popularity.  Jasper Liu will be returning to Taiwan tomorrow after all his Korean activities are concluded.  
Jasper Liu Yi Hao Sheds Boy Next Door Image in "Before We Get Married"
Click on the picture below to watch Jasper Liu's interaction with Korean fans.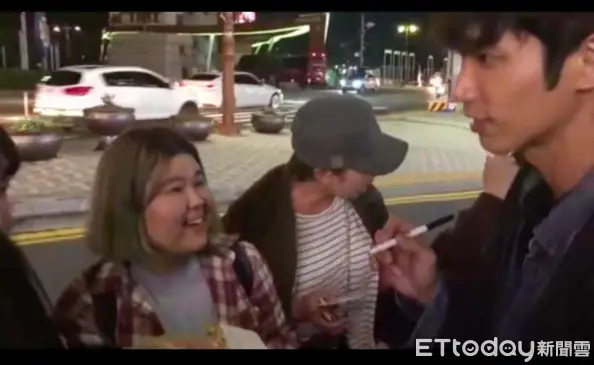 Credit: ETtoday.net, Jasper Liu Yi Hao IG