After Jiang Jinfu's (蔣勁夫) ex-girlfriend, Haruka Nakaura posted up pictures of her injuries, surprisingly, he admitted to abusing her.  He issued an apology on Weibo after being inactive on social media for almost two months.  While Jiang Jinfu said he would take responsibility for his actions and did seem sincere in his apology, Haruka Nakaura was not satisfied.  She posted another picture of her injuries on Instagram addressing his apology and the rumors about her behavior with this lengthy message:  
Jiang Jinfu Confesses Love for New Uruguayan Girlfriend on Chinese Valentine's Day
Jiang Jinfu Released by Japanese Authorities
Jiang Jinfu's Living Quarters in Detention Center Revealed
Hu Ge Under Fire for His Comments on Jiang Jinfu's Assault Case
"I actually didn't want to reveal any news related to your violent actions.  Once I did, you finally took action.  If you really wanted to apologize, you wouldn't just post it on Weibo, but actually apologize to me and repent for your actions in person.  You already hid for a month and you've only thought about apologizing now?  I've been waiting for you to contact me.  I've always believed you and yet what happens?  I've waited so long and you only apologized on Weibo?  I actually have a lot to say to you, but it seems you're only concerned about what I post on Instagram.  Then I will tell you right here.  You kicked your child away.  You kicked me so hard in the stomach that I miscarried.  I've been trying hard to help you quit your violent behavior.  We even tried to control your violent behavior together.  You blocked me from contacting my friends and family.  In these four months,  I spent 24 hours of each day with you.  You even took my cell phone.  It's already like this, so how can I be what you guys said about me having improper relations with other men?  Surrender earlier and don't spread false information on the internet."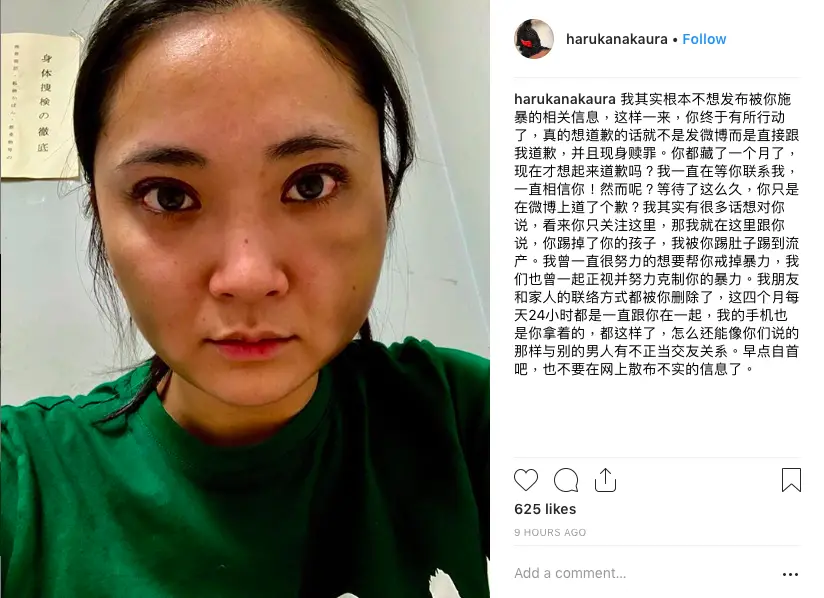 Jiang Jinfu has not responded to Haruka Nakaura's post.  However, there are new claims from someone who seems to be Jiang Jinfu's friend.  This person had uploaded a lawyer's letter in Japanese and screenshots of a WeChat conversation between Jiang Jinfu and Haruka Nakaura.  The conversation alleges that Haruka Nakaura hired the yakuza to blackmail Jiang Jinfu.  It also claims they knew where Jiang Jinfu's parents live, insinuating they would be in danger if he didn't pay the amount.  
Jiang Jinfu Surrenders to Japanese Authorities, Arrested for Assault Charges
This person alleges Jiang Jinfu had considered getting married after Haruka Nakaura told him she was pregnant.  When he mentioned about meeting her parents, she would always turn him down.  Later on, he found out her mother belonged to a cult.  It also said Haruka Nakaura lied about her academic achievements and being pregnant.  During their last fight, this person alleges Haruka Nakaura told Jiang Jinfu about how she had an orgy with another female and five other males.  Jiang Jinfu lost his mind after hearing this and allegedly assaulted her.  As she expected this, she quickly called the police and captured the evidence.  Later on, even used the yakuza to chase after Jiang Jinfu to pay the 1 Billion JPY breakup fee.  
Jiang Jinfu Admits to Assaulting Ex-girlfriend, Haruka Nakaura
Whether this person's claims are true or not, there is no justification for violence.  Jiang Jinfu admitted to assaulting her, regardless if she baited him or not.  He hasn't responded to the new claims made by Haruka Nakaura and this netizen.  As for Haruka Nakaura, all her Instagram accounts are no longer active.  
Credit: Haruka Nakaura IG, Jiang Jinfu IG, Apple Daily TW