Jiang Jinfu (蒋劲夫) got a Hail Mary last year after Japanese authorities released him from the detention center without pressing charges for assault against his Japanese ex-girlfriend, Haruka Nakaura. He was released at the end of last year. Since then, he has kept a relatively low profile. Netizens have previously spotted him DJing at a club in Shanghai, looking much heavier than his celebrity days. It's unclear if he has given up entirely on his showbiz career, but it's unlikely he'll be able to make a comeback due to the abuse scandal.
Julieta Responds to Lawsuit Brought by Jiang Jinfu Over Domestic Abuse Allegations
He Said, She Said Ensues between Jiang Jinfu and Ex-Girlfriend, Julieta, over Domestic Abuse Allegations
Surprisingly enough, Jiang Jinfu was able to get a new girlfriend. Back in July 25, he was seen with a curvy foreigner female companion, believed to be his new girlfriend at Disneyland in Shanghai. They were seen again by netizens praying at a temple a week later. While he never addressed it, netizens were able to dig up information about his new girlfriend. She's said to be from Uruguay and currently living in Shanghai. Earlier in August, they were also seen returning home together, seemingly living together.
Jiang Jinfu Released by Japanese Authorities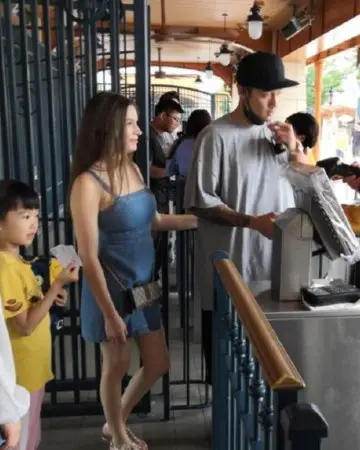 Jiang Jinfu Surrenders to Japanese Authorities, Arrested for Assault Charges
Jiang Jinfu hasn't updated his Weibo since November 2018, but there was an alleged conversation revealed by someone who seemed to be his friend. The conversation showed Jiang Jinfu admitting to having a new girlfriend and even mentioned wanting to have a serious relationship. He also mentioned wanting to introduce his girlfriend to his friends. However, the validity of those texts were not confirmed.
Hu Ge Under Fire for His Comments on Jiang Jinfu's Assault Case
Haruka Nakaura Responds to Jiang Jinfu's Apology, Blames Him for Miscarriage
Finally on Chinese Valentine's Day, Jiang Jinfu uploaded an IG story showing a bunch of roses and tagged his new Uruguayan girlfriend. She also uploaded a picture of roses that he got her and a hand written card saying, "Dear Julieta, I Love U" in English and "Happy Valentine's Day" in Chinese. Unfortunately, he has privated his account.
Jiang Jinfu Admits to Assaulting Ex-girlfriend, Haruka Nakaura
Credit: ETtoday.net, Weibo (1, 2), IG