Chinese actor Jiang Jinfu (蒋劲夫) was involved in a domestic abuse scandal last year with his Japanese ex-girlfriend. He was fortunately not charged after being detained in Japan for a little over a month. He returned to China after his release and remained out of the spotlight. Back in July, he was seen hand in tow with a new girlfriend, Julieta, who is said to be of Uruguayan descent.
Julieta Responds to Lawsuit Brought by Jiang Jinfu Over Domestic Abuse Allegations
Everything seemed to be going well for them when Jiang Jinfu uploaded an IG story of the flowers he gave Julieta on Chinese Valentine's Day. Julieta also uploaded the flowers on IG story and showed the card he wrote her saying, "Dear Julieta, I Love U" in English and "Happy Valentine's Day" in Chinese. Things took a worse turn when Julieta uploaded a series of IG stories on November 26 alleging he assaulted her and revealed his other violent behavior.
Jiang Jinfu Confesses Love for New Uruguayan Girlfriend on Chinese Valentine's Day
In the series of IG stories, Julieta said it took her three months of therapy to finally reveal what happened in the past few months. She then says, "The days living with Jiang Jinfu was like being inside of a prison. He is a control freak, violent and a very jealous person."
Jiang Jinfu Admits to Assaulting Ex-girlfriend, Haruka Nakaura
Jiang Jinfu Released by Japanese Authorities
She mentioned he wouldn't let her see her friends and would always check her phone. He threw her phone until it broke, used his bare hands to break her laptop, and cut up all her credit cards. He also tried to force her to use up all her money. Then Julieta mentions Jiang Jinfu tried to get her pregnant and threatened to kill her twice. She says, "He created bruises all over my arms and legs, but he's scared of the media so he doesn't want to hit my face."
Julieta then says all this happened while she was with him in the first two months. She said she finally found the opportunity to escape at the end of August and is now safe and healthy. She also alleges Jiang Jinfu humiliated his parents and threatened to hit them. She says his parents are very good people and felt bad that they had to face a son like this.
Jiang Jinfu followed up with a legal notice denying the allegations the next day. The legal notice states the domestic abuse allegations aren't true and have seriously violated Jiang Jinfu's legal rights. It also states that during the course of Jiang Jinfu and Julieta's relationship, no violent behavior was committed nor were there any restrictions on her freedom. He also denies the allegations of abuse on his parents. The notice also demanded she delete all the posts regarding the matter and apologize to Jiang Jinfu.
He also followed up with a Weibo post saying, "If I did it, I admit it. If I didn't do it, I don't want to be wrongly accused either. The past and current affairs, I really don't want to explain it anymore…It's very hard…really hard…Over here, I just kindly ask everyone to let go of my family and friends. Thank you."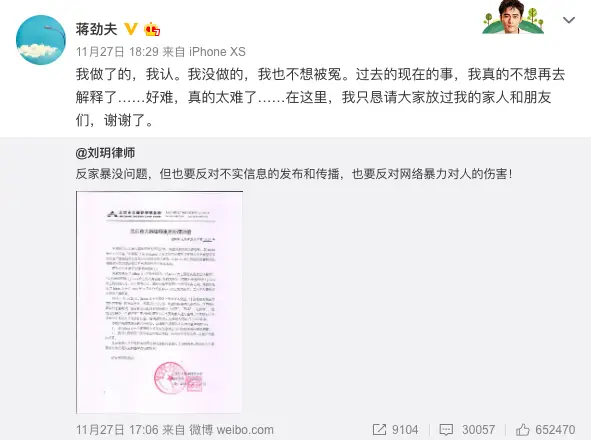 Sina Entertainment contacted Julieta the next day about the notice saying her allegations aren't true, she responded back to them saying, "His lawyer writes this and you just believe it? Of course it's (allegations) true.".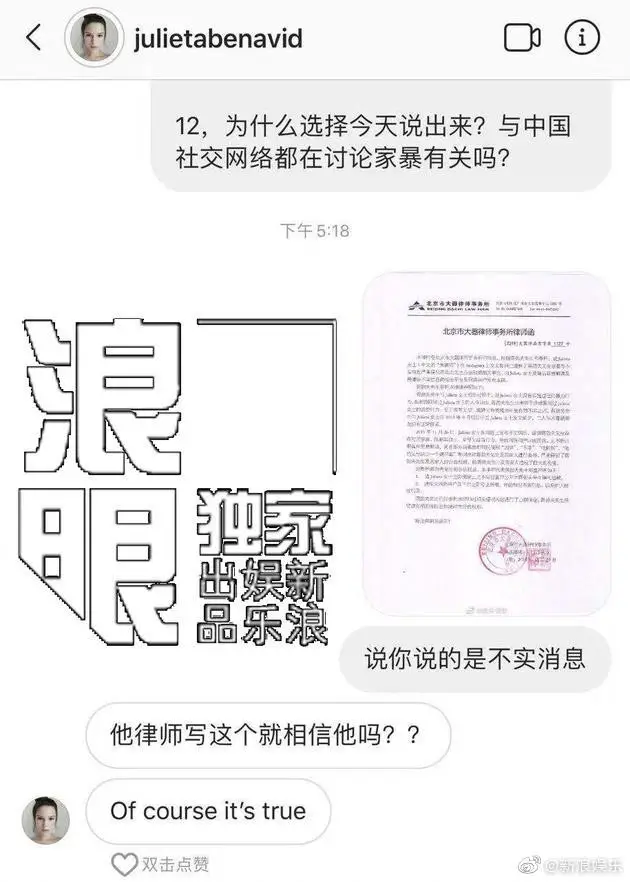 Julieta followed up with two more IG stories on November 27, one of injuries allegedly suffered by the hands of Jiang Jinfu and another recounting the injuries happened while she was locked up at the Grand Hyatt Hotel in Changsha. She detailed how she was able to send the pictures to her friend with her busted laptop that was allegedly destroyed by Jiang Jinfu. She also says she doesn't want money and won't benefit from making these allegation as she has never sold the details to any media outlet. She just doesn't want this to happen to another girl.
She also posted this thanking everyone for their concern and said she won't let this incident ruin her impression of Chinese people and that she already treats China as her second home after living there for over five years.
Credit: Weibo (1, 2, 3, 4), Julieta IG