Sad news for a lot of people today as Chinese actor, Shawn Dou (窦骁), and Hong Kong billionaire heiress, Laurinda Ho (何超蓮), officially confirmed they are dating today. Their announcement came quick when the Chinese media released pictures of Shawn Dou entering a hotel and holding hands with a female companion who was later identified to be Laurinda Ho. Later on in the day, the two went on Weibo and posted the same caption, subtly confirming their relationship. They used a Chinese internet slang term, "dog food"(狗糧), to represent they are spreading their love and PDA to single people everywhere. The Chinese slang term for singles is "single dogs." The two were just seen at a public event together in Hong Kong last month.
Shawn Dou Earns Praise for How He Handled Fans Filming Him at the Airport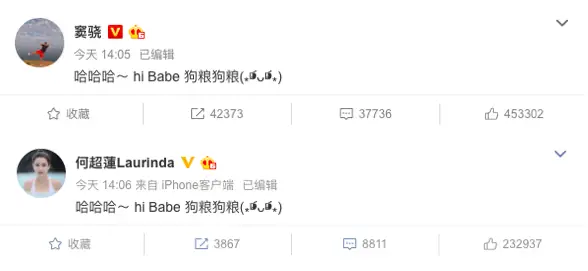 Did Shawn Dou Bring Girlfriend, Laurinda Ho, Back to Canada to Meet the Parents?
Shawn Dou seems to have an affinity with the Ho family as he was once rumored to be dating US-based Chinese model, Ming Xi (奚夢瑤), back in 2016. Ming Xi is now dating Laurinda Ho's younger brother, Mario Ho, Stanley Ho's second son with his fourth wife, Angela Leong (梁安琪). The rumors started when Shawn Dou and Ming Xi uploaded the same picture of them together onto social media. Ming Xi added a caption with her picture that said "Chillin' with 'big brother' and 'mom'," which got everyone thinking they were dining with Ming Xi's mom. However, Ming Xi went to social media today to clarify that she never dated Shawn Dou and that they were only colleagues. She also clarifies the "mom" in the picture was just their former boss. She also took the opportunity to congratulate his relationship with Laurinda.
Shawn Dou Denies Dating Janine Chang, Shawn Dou: She Already Has a Boyfriend
Shawn Dou and Laurinda Ho Spark Cohabitation Rumors with Their Domestic Life Posts
Shawn Dou, who is 31 years old, grew up in Canada. He joined a male beauty pageant when he was 18 and won first place. In 2008, he was accepted into the prestigious Beijing Film Academy to study acting. In 2010, he auditioned for the male lead in his first film "Under the Hawthorn Tree" (山楂樹之戀), directed by famed Chinese director, Zhang Yimou (張藝謀) and became an overnight sensation. He is now a household name among the Chinese industries, commanding a 40 million RMB salary per project.
Mario Ho Proposes to Model Girlfriend, Ming Xi
Macau Casino Tycoon, Stanley Ho, Passes Away at 98
As for Laurinda Ho, who is 28 this year, she is the second daughter of Macau casino tycoon, Stanley Ho (何鴻燊), and his third wife, Ina Chan (陳婉珍). She is famous among the Hong Kong socialite circle and is often plastered in the Hong Kong tabloids with her news. She is also known for her philanthropic work and business savvy acumen.
Late Stanley Ho's Son, Orlando Ho, Rumored to be Cheating on His Wife
Credit: hk.on.cc (1, 2, 3, 4), Shawn Dou Weibo, Laurinda Ho Weibo