Chinese actress, Wu Jinyan (吴谨言), is filming a new series, "We Are Young" (青春创世纪), with fellow actor, Johnny Huang Jingyu (黃景瑜). The cast attended the blessing ceremony for the new series today. This is Wu Jinyan's second modern series after "Standardized Life" (标化人生). Wu Jinyan plays someone who is taken in by Johnny Huang Jingyu's rich family. She spends her childhood with Johnny Huang Jingyu and eventually both enter into the e-Commerce industry when they grow up. Wu Jinyan becomes a broadcaster while Johnny Huang Jingyu plays the overbearing CEO, maintaining an employer-employee relationship.
Wu Jinyan Addresses Not Having Any Hits After "Story of Yanxi Palace" and Lack of Screen Time in New Series, "Knock on the Happiness Door"
Dilraba Stars Alongside Johnny Huang Jingyu in "Love Advanced Customization" After 8 Month Lapse from Filming
The on-screen couple are already getting fans excited as they have started making fun of each other on Weibo. Wu Jinyan initiated it first when she posted a candid picture of Johnny Huang Jingyu at the ceremony with his eyes semi-closed and added the caption, "Duan CEO, why don't you open your eyes a little more while taking pictures? Johnny Huang Jingyu strikes back with the same picture Wu Jinyan posted, but revealing the other side of the picture, which is of Wu Jinyan with her eyes closed, with the caption, "Wake up."
Wu Jinyan Doesn't Want to be Associated with "Wei Yingluo" Anymore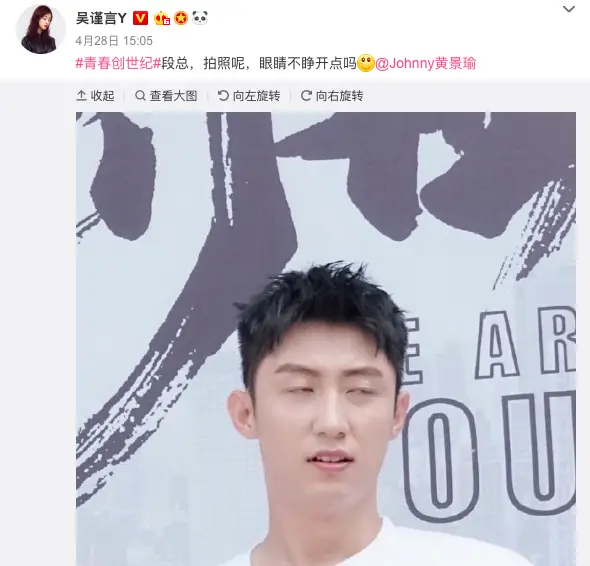 Director of "Something Just Like This" Speaks Up about Debate Over Johnny Huang Being Too Touchy with Wu Jinyan Off Camera
Wu Jinyan Denies Dating "Story of Yanxi Palace" Co-Star, Hong Yao
The drama seems to be your typical office politics rom-com with the brooding male lead and damsel in distress. Will one of Wu Jinyan's character finally get her happy ending?
Credit: ETtoday.net, We Are Young Weibo, Wu Jinyan Weibo, Johnny Huang Weibo