Sandra Ma's (马思纯) new series with Allen Deng (邓伦), "Mr. Fighting" (加油, 你是最棒的) airs today. Her character, "Fu Zi" (福子), is supposed to be someone on the chubbier side and serves as the primary reason why she is often ridiculed in the series. In order for Sandra Ma to immerse herself to the character, the director requested her to gain 2.5 kg (~5.5 lbs) in weight. However, Sandra Ma confessed during her weight gain journey, she couldn't control herself and kept overeating. In the end, she gained 7.5 kg (~16.5 lbs).
Sandra Ma Claps Back After Being Criticized for Her Body
At the July 28th press conference, there was a Q&A session and Allen Deng was ruthless when it came to exposing Sandra Ma's lifestyle during filming. The first question asked them what each other's catchphrase was while filming. Sandra Ma revealed Allen Deng would often say to her, "You fatty!" Allen Deng explains Sandra Ma kept telling him to let her order more food, which led to the both of them laughing.
Sandra Ma Talks about Her Bout with Depression for the First Time
Netizens Have Mixed Reactions Over the Allen Deng and Yang Mi "CP" in "Great Escape"
When asked what the other person is doing when they are breaking from filming, Allen Deng quickly blurted out, "Eating." Sandra Ma and the audience laugh, but Allen Deng explains, "It's more precise to say that she wants to eat, but she can't eat." Allen Deng goes on to explain, "She had to eat for a while to prepare for her role, but an accident happened. She couldn't stop [eating], you know. The director asked to do a medium shot of her, but the videographer already said it's a medium shot." Sandra Ma then explains, "I am eating and he will be next to me and ask, "What are you eating now?."
Viewer Fractures Ribs After Watching Allen Deng Dress Up as a Woman in "Mr. Fighting"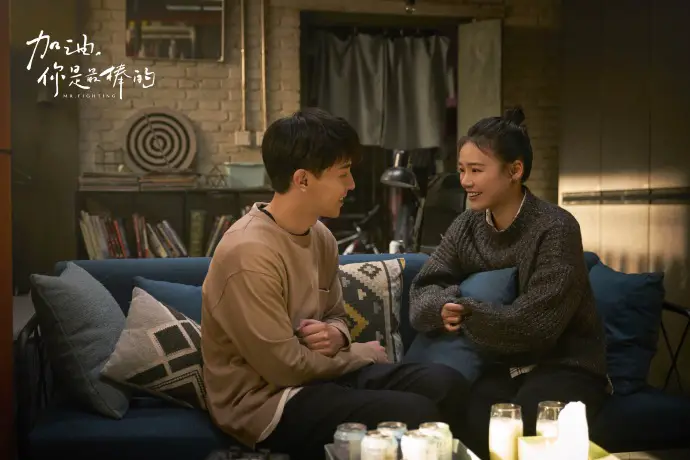 William Chan and Sandra Ma Can't Keep Their Hands to Themselves in "Age of Legends"
The last question asked to name each other's three favorite snacks on the film set. Allen Deng quickly complained and said, "There's no way of naming it all." Sandra Ma defends herself said, "I work at the supermarket, so I should be eating whatever I eat." It looks like the two enjoyed taking jabs at each other during filming. While Sandra Ma did look a little more plump at the press conference, most fans were accepting and left comments such as, "Cute," "Real personality," "Though weight loss was not successful, but the look of happiness is very soothing."
Watch the Q&A session here: http://t.cn/AijB7Ulc?m=4399517770557251&u=6915129228