People usually say they are "dying from laughter" as a form of expression. In this viewer's case, she fractured her ribs from laughter. Allen Deng's (邓伦) new series, "Mr. Fighting" (加油你是最棒的) just started airing on July 31. He plays a has been celebrity trying to restore his former glory. As a result, he is desperate to prove himself with any opportunity. There is a scene where he portrays a woman and dons a long haired wig with bangs. The scene slowly pans to him turning his head towards the camera with the wind blowing against him. Who would've thought this scene would result in a viewer laughing so hard that she fractured her ribs?
Mark Chao and Allen Deng Star in Guo Jingming's Movie Adaptation of Japanese Novel Series, "Onmyōji"
Allen Deng Cheats Li Yitong into Marriage in "Blossom in Heart"
The friend of the the female viewer uploaded their texts explaining how she fractured her ribs and even showed a picture of her medical report. She explained she was watching Allen Deng's new series. As she was drinking water, she saw the scene of Allen Deng in the female wig and started laughing profusely. Her ribs started hurting. At first she thought it was a side cramp. However, she went to the doctors and it was discovered she had fractured her ribs.
Allen Deng's Old Instagram Account and Ex-Girlfriend Revealed
Sandra Ma Gained 16.5 Pounds for Her Role in "Mr. Fighting"
She even showed a picture of the doctor's diagnosis and it showed she fractured her 6th rib. Her doctor also said this is the first time he has seen a patient who fractured their ribs due to laughing. He also told her not to drink so much beverages.
Allen Deng Plays a Has Been Celebrity in "Mr. Fighting"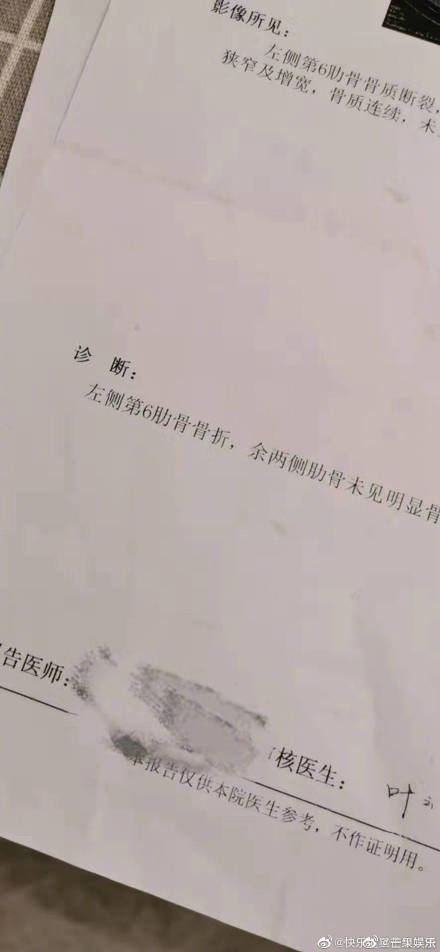 Netizens Have Mixed Reactions Over the Allen Deng and Yang Mi "CP" in "Great Escape"
The female viewer's friend shared the texts and it went viral. Allen Deng got a hold of it and even left a message for the injured friend saying: "I feel sorry for you. I wish you a speedy recovery."
Yang Mi Reacts to Her "CP" Pairings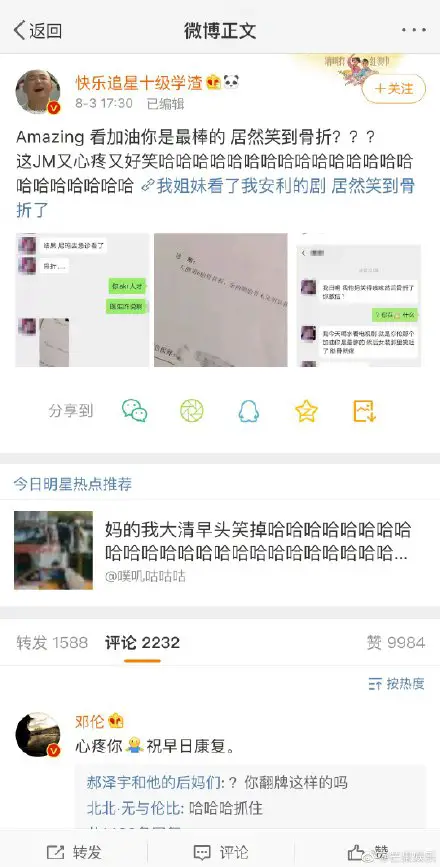 Allen Deng Surprises Fans in Bathrobe While Filming Variety Show, "Great Escape"
Hunan Television also reshared the story and Allen Deng's comment. The friend updated everyone that she will keep an eye out on her friend and make sure she doesn't drink so much soda. She also said they will continue watching Allen Deng's series.
Angelababy Has to Choose Between Allen Deng and Zhu Yilong in "My True Friend"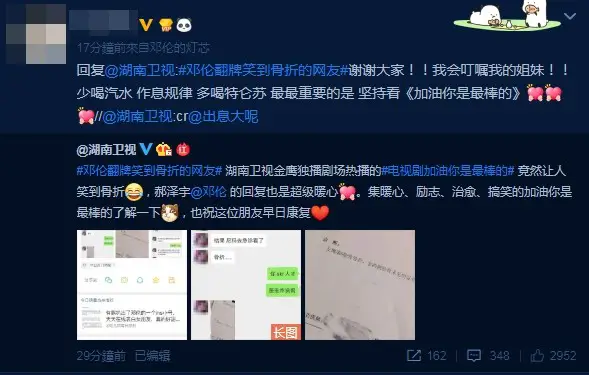 Credit: ETtoday.net, Weibo (1, 2, 3)