Chinese actor Allen Deng (邓伦) has been very private when it comes to his personal life. Fans and netizens have always wanted to know more about his personal life, especially when it comes to his love life. Netizens recently discovered a personal IG account, which seemingly belongs to Allen Deng as there were old pictures of him with one of his ex-girlfriends.
Mark Chao and Allen Deng Star in Guo Jingming's Movie Adaptation of Japanese Novel Series, "Onmyōji"
Allen Deng Cheats Li Yitong into Marriage in "Blossom in Heart"
Netizens discovered Allen Deng's old IG account and found pictures from 2013 with his then girlfriend. There was also a clip from Douyin (Tiktok) of Allen Deng serenading her. In the beginning, he says, "This song is given to my dear "Niu Niu", "Miss Dong" (董小姐) (the name of the song). You are my "Miss Dong."
Listen to the clip here: http://t.cn/AiHCfcdg
Viewer Fractures Ribs After Watching Allen Deng Dress Up as a Woman in "Mr. Fighting"
In one of the pictures, the caption reads, "An everlasting happy family. The road is still very long, but that's ok, there is me to accompany you." After the pictures were exposed, netizens discovered the woman was Bai Huizi (白卉子) who is also an actor. She is from the same city as Allen Deng. She graduated from the Beijing Film Academy and got her start in the 2011 movie "Tracks Kong Lingxue (跟踪孔令学). It's reported the two dated for a year.
Netizens Have Mixed Reactions Over the Allen Deng and Yang Mi "CP" in "Great Escape"
"Ashes of Love" Producer Confirms Sequel, "Love When the Stars Fall", is in the Works
Allen Deng Lun Dehydrated Himself to Stay Fit while Filming "Onmyōji"
In 2014, Allen Deng was rumored to be dating actress, Zhou Chuchu (周楚濋), who is 6 years his senior. The old account had a picture of him with a female that looked like, Zhou Chuchu, at a beach in 2014, seemingly suggesting the two were dating. Both relationships happened before Allen Deng became popular. It's rare to hear about any of his dating rumors nowadays.
Yang Mi and Allen Deng Embrace Upon Reuniting for "Great Escape" Season 2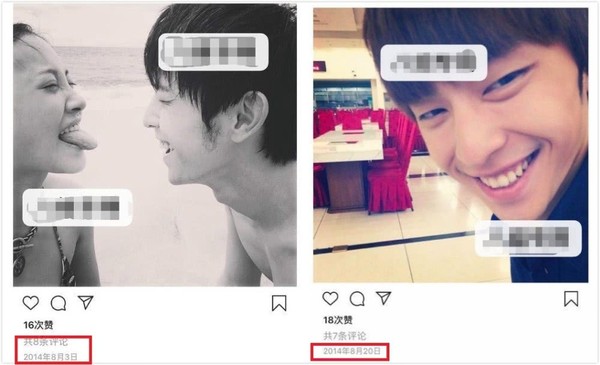 Credit: ETtoday.net, Weibo (1, 2, 3)