Chinese youth drama, "A Love So Beautiful" (致我们单纯的小美好), brought its stars, Shen Yue (沈月) and Hu Yitian (胡一天), immense popularity. Actress, Wang Ziwei (王梓薇), who played Shen Yue's good friend, "Lin Jingxiao" (林静晓), in the series, also gained the public's interest for her portrayal of the character. Perhaps, she is getting too popular as she has been dragged into dating rumors with UNINE's leader, Li Wenhan (李汶翰) once again.
Li Wenhan Roasts Himself and Wang Yibo
The first time Wang Ziwei and Li Wenhan were rumored to be dating started back in April, shortly after Li Wenhan debuted as part of UNINE. During Yuehua Entertainment's 10 Year anniversary celebration, it was rumored Li Wenhan had brought Wang Ziwei with him to attend the event. However, those rumors were never confirmed. Entertainment bloggers claim netizens found supposed evidence Li Wenhan was already dating Wang Ziwei while he was filming the series, "My Naughty Classmates" (热血学院). They also claim he was spending this year's Lunar New Year holiday with Wang Ziwei while he was still a contestant on "Qing Chun You Ni."
Li Wenhan Draws Backlash for Telling Young Boy "It's Best for Boys Not to Dance to Girl Dances"
UNINE's Li Wenhan Addresses Dating Rumors with Niki Yi Yizi
Because today is Chinese Valentine's day, some netizens started bringing up the topic "李汶翰王梓薇百年好合早生貴子" (Li Wenhan and Wang Ziwei, may you live a long and happy life together, hope you have kids early) on Weibo recently. Many netizens started discussing whether the two would be spending it together. However, Wang Ziwei addressed the rumors on her August 6th post on Weibo, saying, "This is the second time already. Please don't bring me into this anymore. I am single. Thank you everyone."
UNINE's Li Wenhan Rumored to be Dating Former Girl Group Member, Niki Yi Yizi, Once Again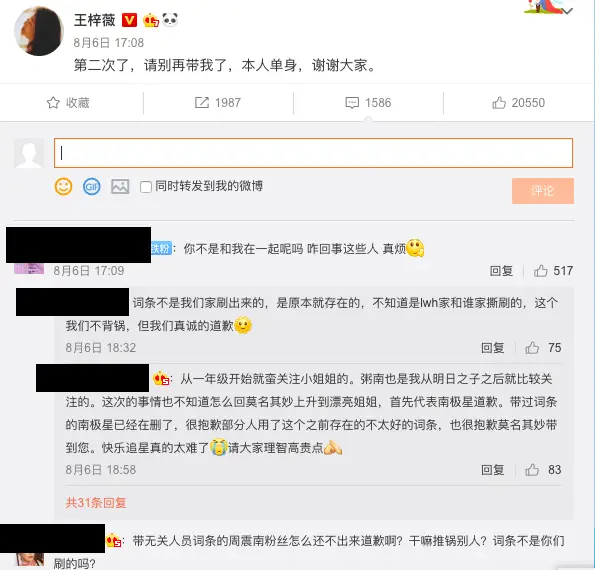 Li Wenhan's Father Talks about UNIQ's Struggles
Netizens got into a heated debate about this topic. It's reported Li Wenhan's fans got into it with fans of R1SE's Zhou Zhennan (周震南). As a result, netizens suspect Zhou Zhennan's fans started bringing up that topic to attack Li Wenhan's fans, which dragged Wang Ziwei into the mix. Li Wenhan's fans left many apologetic comments under Wang Ziwei's clarification post saying this is not their doing. One netizen said, "Sorry, little sister got pulled into this." There were also some netizens who claim this topic was created by Li Wenhan's fans and was later used by unknowing fans. Either or, Li Wenhan is not dating Wang Ziwei.
Credit: Weibo (1, 2, 3), ETtoday.net