After last year's "Guardian" (镇魂), this year's "The Untamed" (陈情令), there will be another series next year based on brotherhood and bromance called, "Flying Phoenix" (凤于九天). Like the prior two series, "Flying Phoenix" is also adapted from a novel where the two male leads are romantically involved. Due to the Chinese National Radio and Television Administration's (NRTA) censorship, the romantic elements between the male leads were removed from "Guardian" and "The Untamed." Instead, the series focused on the brotherhood between the male leads. It's certain "Flying Phoenix" will follow suit.
Xuan Lu Declares She's Single, Denies Dating Wang Zhuocheng
When news of "Flying Phoenix" had officially started filming was shared, it started trending on Weibo not because of the stellar cast or any flashy promotion. It's because the novelist wasn't even aware filming had already started. The author posted on Weibo saying, "God, what happened? No one told me any news, not even a greeting. I don't even dare to ask about the actors. I asked if this news is real or fake, whether they have the filming permits?" She also said, "You should inform me about the start of filming. So…I'm guessing this is just an online rumor?"
Ex-Girlfriend of Qi Peixin from "The Untamed" Leaked Intimate Pictures and Accused Him of Cheating and Forcing Her to Get an Abortion
It doesn't look to be a rumor as the pictures were shared from the series' official Weibo account, with one of them saying "Bless "Flying Phoenix" a successful start to filming. Smooth filming" The production crew also chose not to reveal the cast. Only a picture of the backs of the two male leads were shown.
Xiao Zhan and Wang Yibo Reveal Their Failed Meetups and Why They Had to Apologize to the Director while Filming "The Untamed"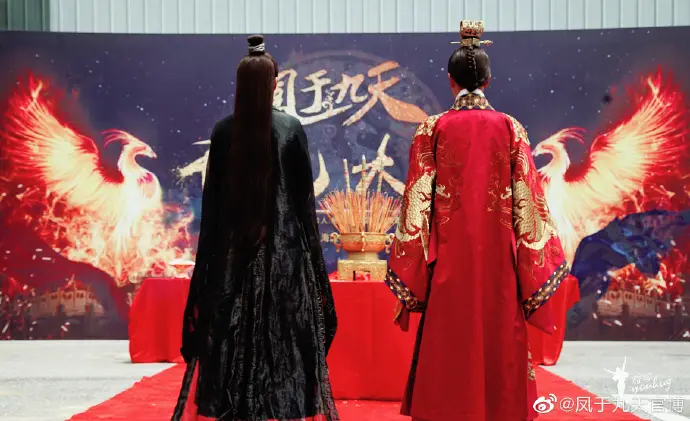 Leo Luo and Arthur Chen to Portray the Dynamics between Master and Disciple in New Series, "Immortality"
The series is based on the author, Feng Nong's (风弄), 2004 novel of the same name. The storyline is centered on a dynasty with a figurehead king. The soul of the crown prince, "Feng Ming" (凤鸣) from the "Xi Lei" state time travels to this dynasty. Due to a fateful meeting, he gets to know the regent, "Rong Tian" (容恬). The both of them work together to unify the 12 states, maintaining peace among the kingdom. The crown prince and the regent have a romantic storyline in the novel, but the series will change their relationship from lovers to intimate friends.
Another Ex-Girlfriend Leaked Qi Peixin's Intimate Pictures and Airs His Dirty Laundry
Even though the cast wasn't revealed, rumors started to circulate the two male leads are Dai Jingyao (戴景耀), who was a contestant in both seasons of "Super Idol" with Cai Xukun (蔡徐坤) and this year's "Produce Camp 2019", and Francis Huang Deiyi (黄德毅). Many fans are keeping their reservations about the series and aren't impressed so far.
Dai Jingyao
Francis Huang
Credit: ETtoday.net, Weibo (1, 2, 3, 4)