TFBOYS' Karry Wang Junkai (王俊凱) returned as a cast member in the third season of variety show, " Chinese Restaurant" (中餐厅), which was filmed in Italy. Because of his school work at the Beijing Film Academy, he had to depart from the show ahead of everyone else. His last episode aired today and the team had a farewell dinner for him before his departure.
Karry Wang Junkai's Team Shuts Down Dating Rumors With Yang Zi After Spotted Together at KTV
Stranger Forcefully Grabs onto Karry Wang Junkai To Take Pictures
Fans Feel Bad for Karry Wang Junkai After He Reveals How Much He Weighs
During dinner, Chef Jack Lin (林述巍) asks who is older between guest, Tong Zhuo (仝卓), and Karry Wang Junkai. When it's revealed Tong Zhuo (b. 1994) is older than Karry Wang Junkai (b. 1999) by 5 years, Chef Jack Lin is shocked. This catches Karry Wang Junkai's attention and prompts him to ask Chef Jack Lin what he thought originally. Chef Lin tactfully answers, "His personality is probably not as mature as yours." Karry Wang Junkai responds back, "I'm low key."
Jolin Tsai Asks Karry Wang Junkai if it's Okay to Have an "Older Woman-Younger Man" Romance
Karry Wang Junkai then gets a bit emotional and says, "Being such a mature person is not necessarily a good thing." Tong Zhuo echos his sentiments and says, "Maturity is not a good thing." Karry Wang Junkai then says, "No, I'm being serious. [You're] not necessarily living happily." Everyone is speechless and Karry Wang Junkai continues saying, "I don't want to be mature either." Chef Lin tries to cheer up the awkward atmosphere and says, "But I often see you very happy."
Karry Wang Junkai Gets Candid about Becoming Famous at a Young Age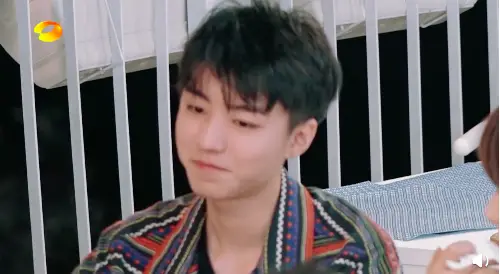 Karry Wang Junkai Holds Back Tears Talking about His Father's Sacrifices Before He Became a Celebrity
Watch the clip here: http://t.cn/AiEWCY09?m=4416202765849313&u=2110705772
Karry Wang Junkai seemed to be alluding to the fact that he had to grow up faster than everyone when he debuted at 13. Even though he will be 20 this year, he has been through a lot and experienced a lot of struggles for someone his age. On another show, he held back tears when talking about his father and how he would often not see him due to his father working the night shift. While Karry Wang Junkai looks young, he sounds very mature. It's no wonder Chef Jack Lin was shocked at the age difference.
After the episode aired, netizens left comments such as, "Getting popular at a young age, you're destined to bear a lot of responsibilities. It must not be easy." "Being mature is not necessarily happy and you have no one to empathize with.", "I feel so bad.", "My heart aches."