TFBOYS' Karry Wang Junkai (王俊凯) is one of the judges on a new variety show called "Me to Us" (我们的乐队), which is a reality competition focused on forming a music band. Aside from Karry Wang, he is joined by S.H.E's Ella Chen (陳嘉樺), Nicholas Tse (謝霆鋒), and Jam Hsiao (蕭敬騰). The first episode aired on March 14.
Karry Wang Junkai's Team Shuts Down Dating Rumors With Yang Zi After Spotted Together at KTV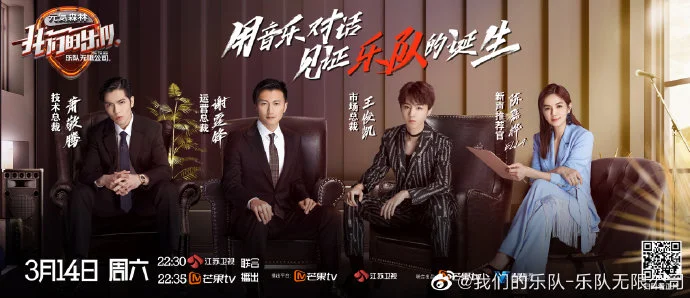 Stranger Forcefully Grabs onto Karry Wang Junkai To Take Pictures
One of the contestants prompted Ella Chen to ask about becoming famous at a young age. She prompted Karry Wang and Nicholas Tse because they were both youngsters who debuted at a young age. Jam Hsiao felt excluded and asked why he wasn't considered. Ella said he can't be considered a youngster. Jam Hsiao said he debuted at 19, but this still doesn't beat Karry Wang's debut at 13.
Jolin Tsai Asks Karry Wang Junkai if it's Okay to Have an "Older Woman-Younger Man" Romance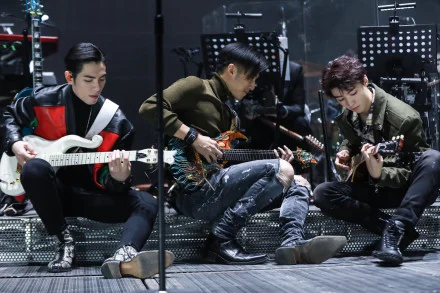 Karry Wang Junkai Holds Back Tears Talking about His Father's Sacrifices Before He Became a Celebrity
In the end, Nicholas Tse deferred to Karry Wang because neither he nor Jam Hsiao could beat him. All this time, Karry Wang remained quiet. His response was, "First off, I think becoming famous at a young age is a very lucky thing, but there are good and bad things about it. There are advantages and disadvantages. Becoming famous at a young age will allow you to look upon this world much earlier. It can make you more mature a little earlier, but you are growing up under everyone's gaze, which can put even more pressure on yourself. If you can overcome it well, then I think you can grow up. Someone that everyone saw grow up and become a person who gets more confident and more awesome as time passes."
Karry Wang Junkai Implies He's Not Happy Being Mature at a Young Age
Fans Feel Bad for Karry Wang Junkai After He Reveals How Much He Weighs
Nicholas Tse also debuted as a teen and has lived under public scrutiny ever since he was born due to his parents' celebrity statuses. He followed up Karry Wang's statement saying, "But if you can't grasp the balance, you will become a very tragic child." Ella Chen follows up saying Karry Wang has adapted well to this way of living.
Nicholas Tse Denies Dating Yang Mi
Nicholas Tse Found Out Jennifer Tse Gave Birth from the News
Watch a preview of the show:
Karry Wang Junkai's Studio Pens Letter to Sasaeng Fans to Stop Irrational Behavior
This wouldn't be the first time Karry Wang alluded to the downside of achieving this level of fame so early. In last year's "Chinese Restaurant 3" (中餐厅3), he got candid about being mature this young didn't necessarily equate to happiness and that he didn't want to be mature. You can sense how Karry Wang appreciates what he has, but also laments over the sacrifices he has made.
Karry Wang Junkai Gives High EQ Response to Plastic Surgery Rumors