Tiffany Tang Yan and Luo Jin confirmed their pregnancy today after months of speculation. Just yesterday, paparazzi pictures revealed Tiffany Tang Yan with a very evident belly. Ever since Tiffany Tang Yan (唐嫣) and Luo Jin (罗晋) got married last October, there have always been pregnancy rumors circulating around. Last December, her management companie denied the pregnancy rumors. However, there was a time when Tiffany Tang Yan was spotted going to the hospital for her pre-natal check up. In addition, there were several accounts of Tiffany Tang Yan's protruding belly at photo shoots and film sets. Since the pregnancy rumors went viral starting since April, no one has responded to the rumors.
Friend Leaked the News of Tiffany Tang Yan Reportedly Giving Birth
Tiffany Tang Yan Gearing Up to Officially Return to Work
Today, Tiffany Tang Yan announced her pregnancy with a subtle message, one heart + one heart = a present. Luo Jin reposted her post and said, "Sharing our happiness with everyone." Fans and netizens have shown an outpour of support for their favorite celebrity couple.
Luo Jin Denies Cheating Allegations with Assistant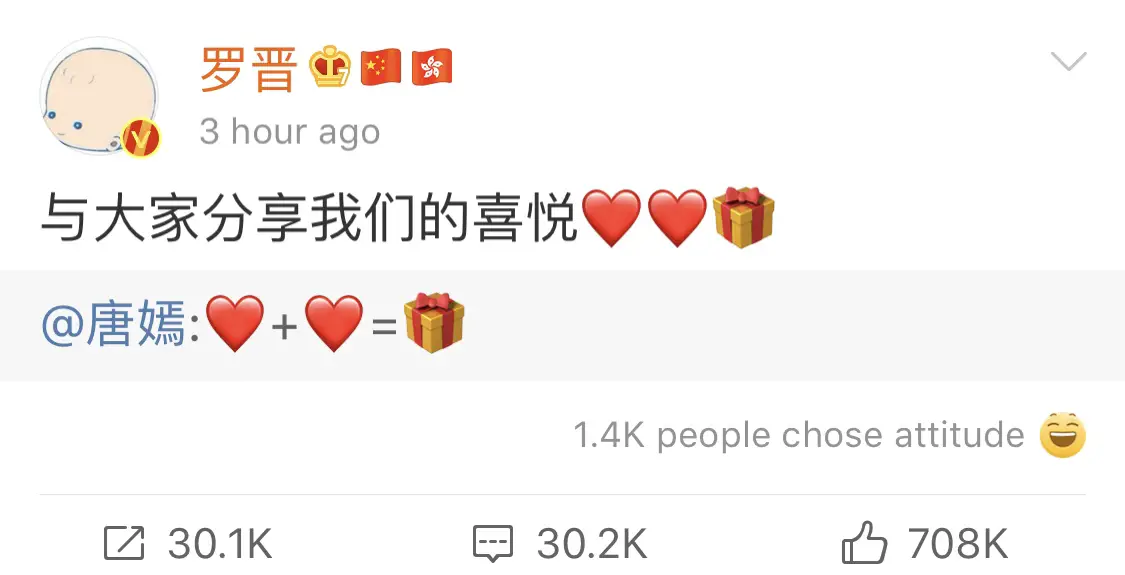 Tiffany Tang Yan and Luo Jin Announce They're Married + Wedding Pictorial
Good friend and actor, Hu Ge (胡歌), congratulated the couple saying, "His uncle, her uncle are both Uncle Hu". Many fans seeing his post told Hu Ge to hurry up and tie the knot.
Tiffany Tang Yan and Yang Mi Avoid Each Other at Event