After Steven Cheung's (張致恒) mega cheating scandal, his public image and work were severely impacted. Even though he publicly apologized to all his ex-girlfriends and his wife, Man Man through Instagram posts, the general public doesn't seem too keen on his return to the entertainment industry. Even his good friends and once label mates, Charlene Choi, Gillian Chung, and Joey Yung, all unfollowed him on Instagram. It's reported no one has been reaching out to him for showbiz work. It's reported he has been working as a chef at a hotel to make ends meet.
Steven Cheung and His Wife are Expecting Another Child
Steven Cheung's Wife Reveals Why She Looked Unhappy on Their Wedding Day
It's said Steven Cheung was introduced by a friend to work as a chef at a buffet in a hotel on the Hong Kong side. Steven Cheung was spotted doing all kinds of things like chopping up food, cooking noodles, and serving customers. He was wearing glasses and a mouth mask and didn't seem to be recognized by the patrons. It's reported Steven Cheung was working for over 10 hours and didn't get off work until 11 something. When he got off work, he was waiting for the bus.
Steven Cheung Addresses Rumors His Fiancee Used Their Baby to Threaten Him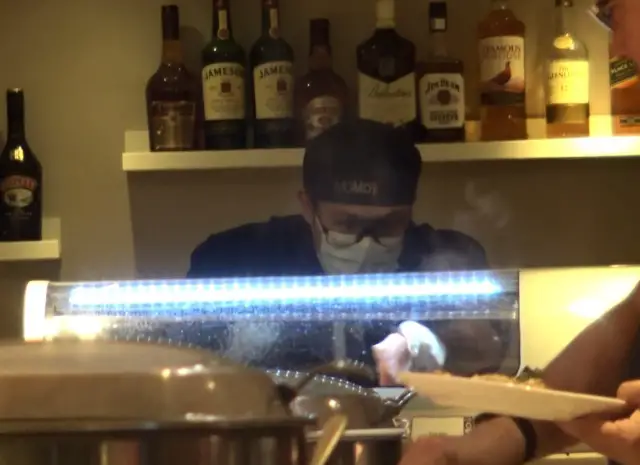 Steven Cheung Borrowed Money from Kenny Kwan and Yumiko Cheng to Repay Ex-Girlfriends
Even though Steven Cheung is working temporarily as a chef, it's reported he still has a contract with Shaw Brothers. He hasn't given up on his entertainment career and has expressed to people in the industry that he wants to film series. He spoke to Oriental Daily News and admitted to working at the hotel. He expressed, "I learned a lot. I put in 10 hours each day, an hour for lunch. It's not sufferable. Not having money is sufferable." He also expressed he will be filming a series in China soon.
Steven Cheung was Still Clinging to Ex-Girlfriend #2, Moon, when His Baby was Born
Credit: Next Media, hk01, hk.on.cc, Steven Cheung IG