Netizens are really gunning hard for the Yang Mi (杨幂) and Wei Daxun (魏大勋) dating rumors to be true. The rumors first started in August when Wei Daxun was seen hanging out with a female friend that had a similar birthmark on her leg as Yang Mi. He already clarified that she was just a friend. Then in November, netizens started speculating again when they thought Yang Mi and Wei Daxun made similar social media posts, which was a bit of a stretch. Now the latest "evidence" is around a cap they both wore.
Yang Mi and Wei Daxun Dating Rumors Heat Up for Umpteenth Time After Recent Spotting
A netizen made a post on Douban (Chinese reddit/iMDB) comparing a gray cap that Yang Mi and Wei Daxun were seen wearing recently. She wrote, "Yang Mi and Wei Daxun are real. They are wearing the same cap!"
Yang Mi and Wei Daxun Rumored to be Living Together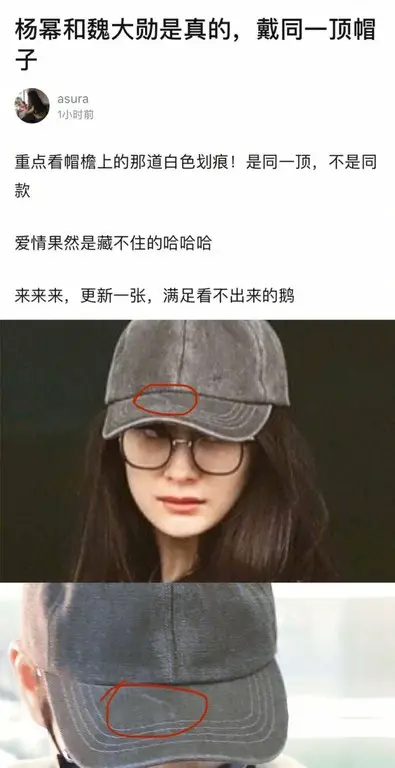 Yang Mi and Wei Daxun Dating Rumors Heat Up as Gossip Blogger Claims They Stayed at the Same Hotel
While the caps do look the same, a netizen pointed out, "The important point is the brim on the cap has a white scratch mark! It's the same cap, not the same style! Love certainly can't be hidden." Netizens are saying they are wearing the exact same cap, not two separate ones of the same style.
Yang Mi and Wei Daxun Got Netizens Speculating about Their Relationship Again After Making Similar Posts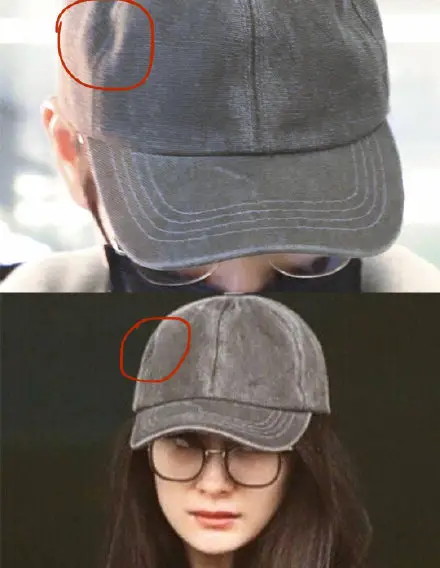 Yang Mi Dragged into Dating Rumors with Wei Daxun After Seen Hanging with Female Friend Resembling Her
After the pictures were shared, many netizens jumped on the bandwagon making similar comments such as, "It's the same cap. The scratch mark is the same.", "It's really apparent.", "They really match well together.", "If they are really together, as a Yang Mi fan, I am really happy." There were some rational netizens who said, "Why don't you say it's Wei Daxun who liked Yang Mi's cap and Yang Mi directly gave it to him.", "Daxun gege already said it was just a friend."
Yang Mi's Studio Shuts Down Marriage Rumors with Wei Daxun