Since Yang Mi (杨幂) and Hawick Lau (劉愷威) announced their divorce late last year, she has been dragged into dating rumors with other celebrities. This time, she was dragged into dating rumors again with Chinese actor, Wei Daxun (魏大勋), after he was seen hanging out with a female friend. The pictures doesn't capture the friend's face. However, based on her dress attire and body frame, netizens suspected Wei Daxun was hanging out with Yang Mi.
Yang Mi and Allen Deng Embrace Upon Reuniting for "Great Escape" Season 2
Netizens Mesmerized by Yang Mi's Figure from Recent Event
Yang Mi and Wei Daxun Dating Rumors Heat Up as Gossip Blogger Claims They Stayed at the Same Hotel
Netizens reported seeing Wei Daxun with a female looking at paintings at the Beijing 798 Art Zone. The netizen's account described the two wearing mouth masks and matching couple shoes, so naturally deduced they were a couple. She also said, "The female was extremely covered up, very skinny, very skinny. We also locked eyes at the time. He obviously panicked and left."
Netizens Found New "Evidence" Claiming the Yang Mi and Wei Daxun Dating Rumors are True
Yang Mi's Studio Shuts Down Marriage Rumors with Wei Daxun
While the netizen wasn't 100% sure, once the photos were circulated online, many netizens noticed the friend's left leg had a small birthmark. Netizens claim it is exactly the same as the one on Yang Mi's leg. Sina Entertainment reached out to both parties for a response. Wei Daxun's team didn't respond, while Yang Mi's staff hung up the phone.
Yang Mi and Wei Daxun Got Netizens Speculating about Their Relationship Again After Making Similar Posts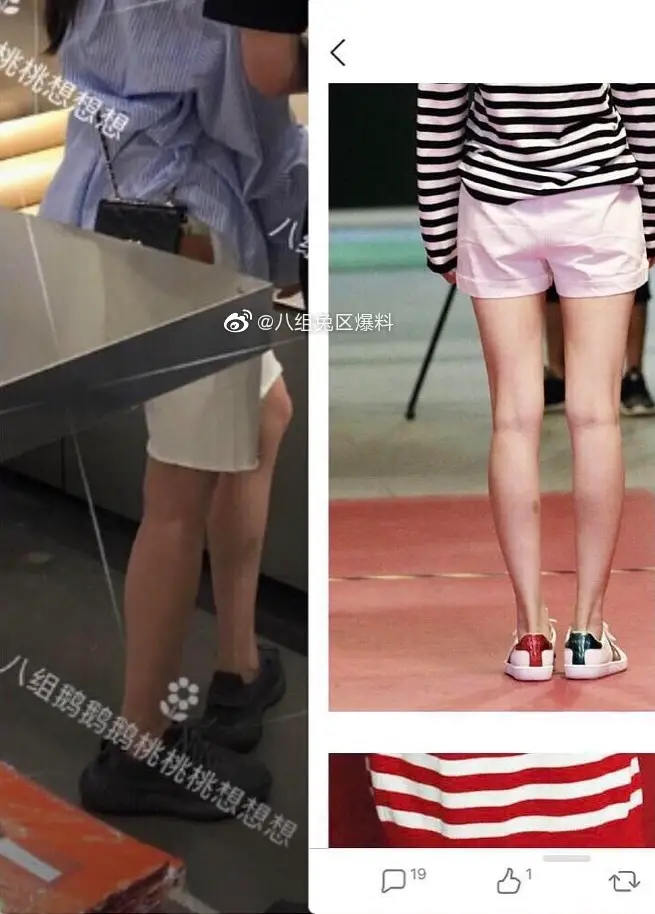 Netizens Complain about Yang Mi's Pictures Being Overly Photoshopped
Netizens had a heated debate with one saying, the birth mark can't be faked, while some netizens said, "Can't friends hang out?", "Yang Mi is single. Thank you.", "There weren't any intimate interactions, why must she be a girlfriend?"
Chinese Actor, Shen Teng, Asks about Wei Daxun on Yang Mi's Post
As it turns out, Wai Daxun has been a die hard fan of Yang Mi's since over 10 years ago. When they were cast members on "Great Escape" (明星大侦探), he once said, "What hasn't changed is that til now, I still like Yang Mi very much." Amidst the heated debate, Wei Daxun made a statement on his Weibo account, saying: "Just hanging out with a friend. Thank you to everyone for your concern."
Yang Mi and Wei Daxun Dating Rumors Heat Up for Umpteenth Time After Recent Spotting

Credit: ETtoday.net, Weibo (1, 2, 3)