Because of the COVID-19 outbreak in China, weekly shows like "Day Day Up" (天天向上) and "Happy Camp" (快乐大本营) have resorted to the hosts and the guests filming from their own homes and through video conferencing. The hosts of "Happy Camp" have filmed a new show called, "Hey, What Are You Doing?" (嘿!你在干嘛呢).
R1SE Gets Candid about Disbanding and Being a Time-Limited Group
He Jiong, (何炅), who is the main host of "Happy Camp", had filmed a segment with R1SE's He Luoluo (何洛洛) in a prior episode. He Luoluo was showing He Jiong how to cook instant noodles. Throughout their interaction, He Jiong even asked him, "Are your families doing well?".
R1SE's Ren Hao Admits to Hanging Out with Female Internet Celebrity After Fan Club Denies His Participation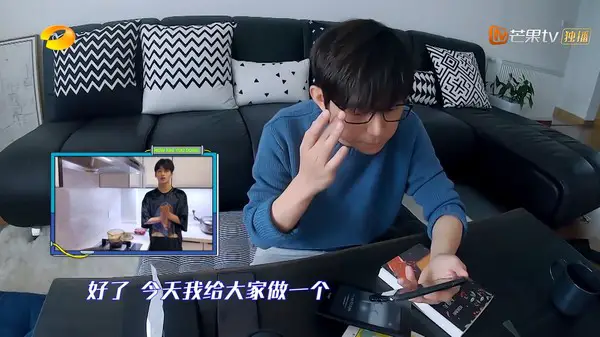 Wajijiwa Entertainment Warns Sasaeng Fans to Stop Harassing R1SE
All was fine until a netizen mistakenly thought the two were father and son due to their 27 year age gap! This netizen revealed her mother was watching the show and thought He Luoluo was really good looking and then saw the camera pan to He Jiong so she immediately thought, "Oh, that's his son, no wonder."
Zhou Zhennan and Xia Zhiguang Address Fans' Complaints about R1SE's Anniversary Song, "Yao"
Lai Kuanlin Claps Back at Anti-fan Attacking Him in Dance Video with R1SE's Yao Chen
In the latest episode that aired on February 14, He Jiong addresses the topic of He Luoluo being his son. He clarified, "R1SE's He Luoluo is not my son nor is he my nephew. R1SE's He Luoluo has no blood relations with me. He Luoluo's last name is "Xu" (徐). So he is just a very good didi of mine." As it turns out, He Luoluo's real name is "Xu Yining" (徐一宁).
Xia Zhiguang Issues Apology, R1SE Bands Together to Shutdown Rumors of Disbandment and Members Leaving