Chinese actor, Qu Chuxiao (屈楚萧), has been trending in the headlines lately probably more often than he would like. First, he was supposed to star alongside Dilraba in a new drama, but was replaced by Leo Wu at the last minute due to issues with his management company. Secondly, he was involved in dating rumors with actress, Wan Zilin, but he denied it. Shortly after his post, Wan Zilin posted she just found out she was dumped after Qu Chuxiao denied the rumors, putting him in a bad light. The latest news comes from a netizen claiming to be his ex-girlfriend and claiming Qu Chuxiao imposed his sexual fetishes in their relationship!
Ex-Girlfriend Suspected of Lying about Her Exposé on Qu Chuxiao's Fetishes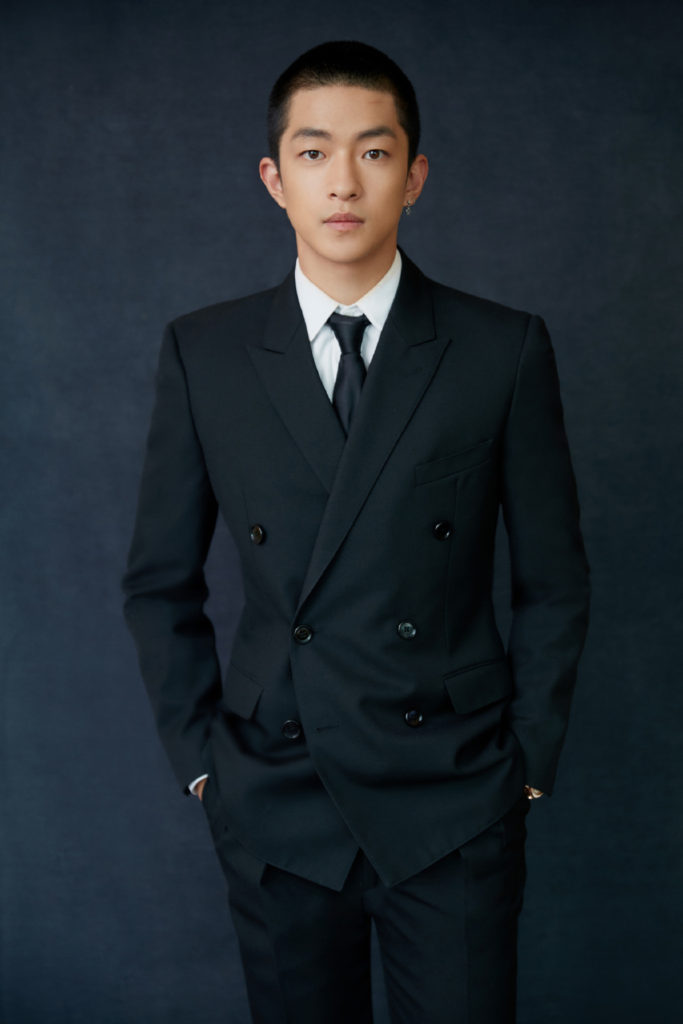 Actress, Wan Zilin, Hints at Getting Dumped After Rumored Boyfriend, Qu Chuxiao, Denies Dating Rumors
This netizen's name is Helen Li Fan (黎梵) and she is from NYC. While everyone was glued to the Show Luo drama unfolding, Helen Li uploaded a bunch of pictures and a long essay alleging Qu Chuxiao liked to engage in SM fetishes. She decided to reveal this because she said the relationship had a big impact on her mental health and she still hasn't been able to come out from it. She no longer wanted to keep her grievances silent.
Qu Chuxiao Issues Legal Statement Denying Domestic Violence Accusations from Someone Claiming to be His Girlfriend
Helen Li reveals she was the one who had contacted him first and later they added each other on Weibo. However, she didn't want to get into a relationship with Qu Chuxiao as she is in New York and he is in China. Even though they decided to not talk anymore and delete each other's contacts, Qu Chuxiao still kept talking to her. Then she goes into the "Master-Servant" agreement he made her sign. She said she has never done anything like this before, but thought it would be okay to give it a try. She was made to call him "master" and referred to him as "nin" (您), the character for the honorific version of "you", and couldn't call him "ni" (你), the regular "you".
Netizen Claiming to be Qu Chuxiao's Girlfriend Retracts Domestic Violence Allegations and Apologizes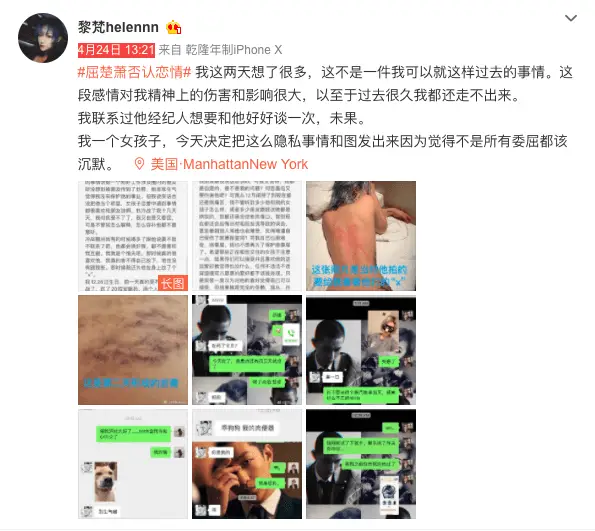 She revealed some other tendencies he had like his possessive nature, always saying "You are mine" and calling her degrading names. The most alarming was a picture she alleges was of Qu Chuxiao using a phone charger cable to mark a "X" on her back to signify that he was marking her as his property and another picture of the bruising she got from the marks the next day. Helen Li also expressed that she doesn't think this is the first time he has done this to other girls.
Aside from his fetishes, she also talked about him lying to her and having other girls while they were still together. She mentioned there would be new girls every few days. Some of them didn't even know of their relationship and would often brag to her and show her their lovey-dovey chat dialogues.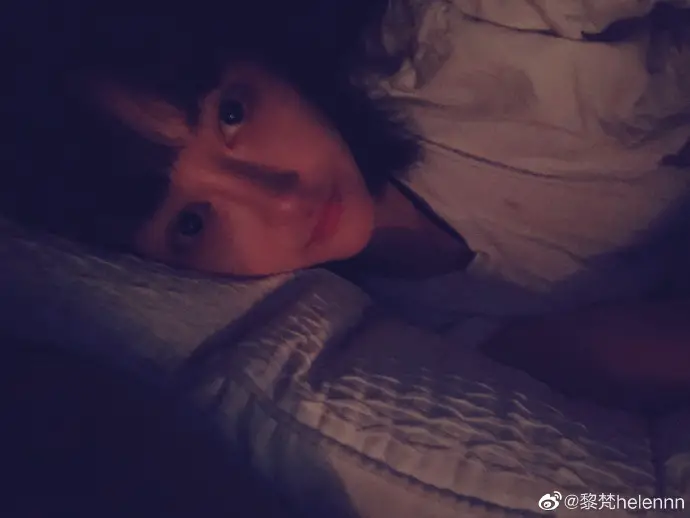 She also mentions the incident with "wzl", which should be referring to Wan Zilin and Qu Chuxiao's dating rumors. Helen Li mentioned this person was able to get a hold of her and told her they were already dating for a year. She reportedly told her while Helen Li and Qu Chuxiao were still together, "wzl" was living with Qu Chuxiao when he was filming. She told her she spent a lot of money on Qu Chuxiao and bought him a lot of things. She also claims Qu Chuxiao wouldn't admit to dating any girl, including Helen Li. However, Helen Li adds that she doesn't really believe what this girl was saying. She doesn't believe in them living together nor money spent on him, but does believe they were together before.
After the posts went viral, many people questioned her story. She uploaded another post explaining that she is not a public figure and doesn't have a team to help her handle the matters. She claims:
"Everything I said is true, defamation carries legal responsibilities."
"My real name is not Li Fan. When I helped him clarify it last time, I changed my name. Also, I went on a show before, but I don't want to become a public figure, that's why I am still using this name."
"The pictures look different is because I did plastic surgery. So what if girls want to become prettier? I am not avoiding it."
Qu Chuxiao hasn't responded to these allegations yet.