This culture of "substitute photography" (代拍) is probably only unique to Chinese fandom culture. This idea of "substitute photography" came about when fans wanted to get a glimpse of their idols, but couldn't do it so there would be these substitute photographers who were willing to follow celebs to take pictures and sell it to them. It's essentially a service.
Celebrity Influencer, Austin Li, Apologizes for Making Sexual Innuendo Towards Yang Mi During Live Stream
Yang Mi (杨幂) fell victim to this when she was recently seen heading to film for her new series, "Novoland: Pearl Eclipse" (斛珠夫人). She was wearing shorts and a long oversized t-shirt. Fans had discovered there were a bunch of substitute photographers squatting and hiding in a corner to take pictures of Yang Mi while she was walking up the stairs.
Yang Mi and Allen Deng Embrace Upon Reuniting for "Great Escape" Season 2
Yang Mi and Wei Daxun Dating Rumors Heat Up for Umpteenth Time After Recent Spotting
Fans immediately tagged Yang Mi's studio and reported there were people taking pictures underneath Yang Mi's pants. Those substitute photographers actually uploaded the pictures they took online.
Yang Mi Explains Why She Seems Cold When Others Share Their Hardships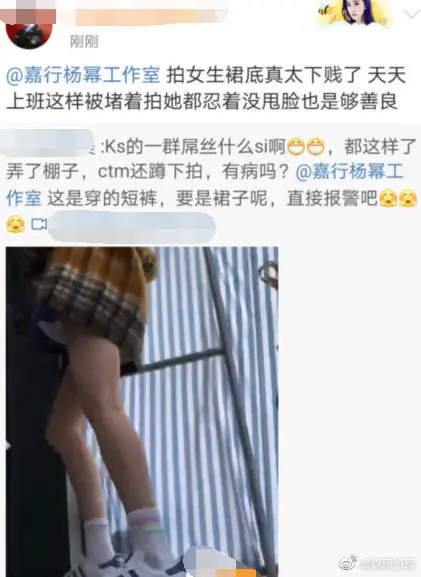 Yang Mi and William Chan Rumored to Reunite in "Novoland: Pearl Eclipse"
The "Novoland: Pearl Eclipse" production team issued a statement and said they resist any type of substitute photography and will beef up security and enforce more safety protocols to prevent people taking pictures on set. Jaywalk Studio reposted that statement and urged people not to secretly take photos or engage in the sale of buying leaked pictures or information.