Rumors started swirling on June 2 that actor, Connor Leong (梁靖康), was dating someone after pictures surfaced of him hanging with a girl. Connor Leong and his female friend were seen shopping at a home goods store and later returned home together. Dating rumors between Connor Leong and his friend were circulating afterwards. Netizens started debating about the identity of the female. Many people thought she looked like Jelly Lin (林允).
Connor Leong Mistakenly Sabotages Eleanor Lee's Chance to Debut in Girl Group in "My Love, Enlighten Me"
Jelly Lin Embraces Her Body and Not Bothered by Comments about Her "Weight Gain"
The rumors seemed to be a head scratcher as they've never had any interactions before and it didn't seem like they were friends. Jelly Lin's studio addressed the dating rumors saying: "Everyone knows my Yun is deeply in love with some Bao (Taobao). If I buy a sofa, it's bought online. So busy everyday, there is no time to go shopping." Connor Leong hasn't addressed his dating rumors yet.
Song Weilong and Jelly Lin Refute Rumors They are Getting Back Together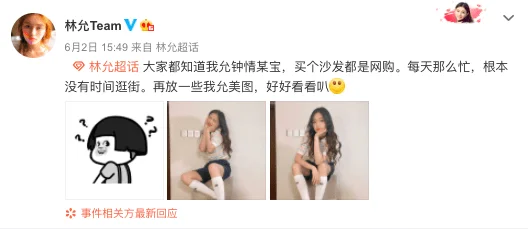 Netizens Criticize Jelly Lin's Body in New Underwear Ad Campaign
Jelly Lin has been tied with Talu Wang in the news lately as they have been filming variety shows together. However, they have denied dating and are just good friends.