Youku's second season of their male idol group survival show, "We Are Young 2020" (少年之名), held its live finale on August 28. The show invited Lay Zhang to serve as the PD, and Cheng Xiao, Tiger Hu, Guo Jingming, and Han Yu to be mentors on the show. The show had some initial buzz when they created social media accounts that would make it easily accessible for international fans. However, that excitement slowly faded as the show wasn't subbed and Lay Zhang was more of a "behind the scenes" PD and only made guest appearances here and there. There have been rumors that Lay Zhang was a last minute addition due to Aaron Yan's incident that left the spot vacant.
Lay Zhang Gives Savage Response on Why He Initially Refused to Join "We Are Young 2020"
The show alternated between guest mentors such as Jackson Yee, Jackson Wang, and Wallace Chung to fill in the void. Luckily, they were able to get Lay Zhang for the finale, but he only opened the show and announced the last 3 spots, while host, Zhang Dada, hosted the entire show.
Lay Zhang Recounts Healthy Competition with Kai During EXO's Trainee Days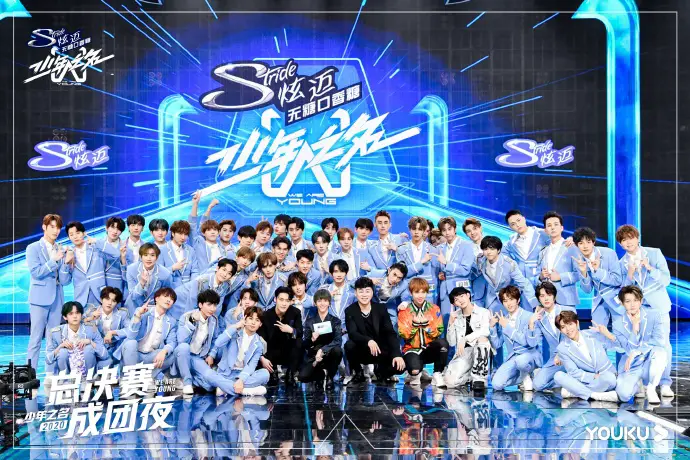 Jackson Wang Consoles "We Are Young 2020" Trainee, Su Er, After He Removes His Make Up in Response to Negative Comments
The show proved to be quite brutal as the first episode had already eliminated close to half of the 84 trainees. A frequent theme of the show was also about "hui guo rou" as there were a lot of trainees who had competed on other idol survival shows. In the first episode, a trainee performed with a mask and explained this was his first and last performance on the show as he had some contract disputes with his company that would prevent him from competing further.
After almost 5 months of competing, Youku's "We Are Young 2020" debuted its time-limited 7 member boy group, "S.K.Y" (天空少年 tiān kōng shào nián). Previous rumored group names included "ALIVEN" and "ALI7STAR".
Official Weibo account: https://weibo.com/u/7496638169?profile_ftype=1&is_all=1#_rnd1598639639148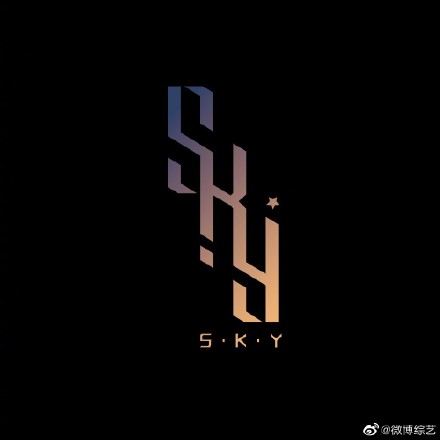 The members of S.K.Y are:
Li Xikan (李希侃) – Center
Zuo Linjie (左林杰)
Hu Wenxuan (胡文煊)
Guo Zhen (郭震)
Zuo Ye (左叶)
Zheng Renyu (郑人予)
Lin Mo aka Lin Mua (林陌)
The final rankings with each trainee's point value:
Li Xikan (李希侃) – Center
Zuo Linjie (左林杰)
Hu Wenxuan (胡文煊)
Guo Zhen (郭震)
Zuo Ye (左叶)
Zheng Renyu (郑人予)
Lin Mo aka Lin Mua (林陌)
Lin Ran (林染)
Yang Chaowen (杨超文)
Xu Shengen aka Plan B (徐圣恩)
Su Xunlun (苏勋伦)
Cui Shaopeng (崔少鹏)
Xu Zhenxuan (徐振轩)
Zhen Nan (圳南)
Li Xikan, who previously competed on iQiyi's "Idol Producer", was a clear favorite to debut in the first spot. Cheers for his name were also the loudest from the audience. Fellow "Idol Producer" alum, Luo Zheng (罗正), also showed up to show support for Li Xikan. He said, "Xikan, two years ago, I accompanied you. Two years later, I will also accompany you."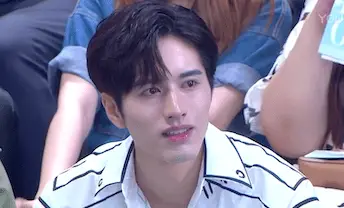 In his acceptance speech, Li Xikan was in tears talking about how his family's condition isn't that good and is even in debt. So he thought to himself, "Who am I to be impulsive" compared to others who can afford to be. After his speech, Lay Zhang told him, "One person I want you to thank is yourself" and hugged each other.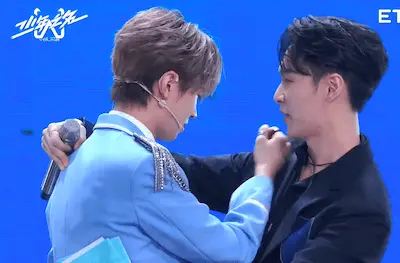 Fans felt especially bad for Lin Ran, who participated in "CHUANG 2019" and debuted in his group, GOLDEN AGE, and Xu Shengen, who participated in "Idol Producer". The hashtag "Xu Shengen didn't debut" was trending at #1 on Weibo.
The finale had 14 remaining trainees to compete for one of the 7 debuts spots. The show invited Produce 101 China trainee, Li Zixuan, and Youth With You 2020 trainee, Flora Dai, as seniors to perform with the 14 trainees.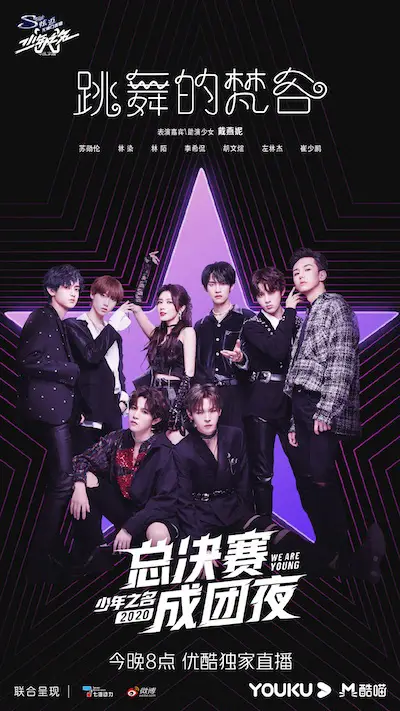 Two groups were also split to perform two songs: "不燃怎么办" (What to do if it doesn't burn?) and "圆周率的志气" (PI's Ambition).
When the show was first announced, some netizens had reservations as its predecessor, "All For One" (以团之名), debuted two groups, New Storm and BlackACE. New Storm has never promoted, while BlackACE has only ever promoted as a group this past summer on Tencent's "We Are Blazing". However, after the 7 debut spots were announced, S.K.Y was gifted with the following debut presents:
Album and music videos to be produced by "famous domestic and overseas producers"
Sing theme song for Youku's 2020 S Level 3D Anime
Variety show appearances including Youku's music show, "SUPER HIT" (宇宙打歌中心), and guesting on the "Street Dance of China 3" finale
Performing at the "TMall Double 11 Carnival" (2020天猫双11狂欢夜)
Performing at Jiangsu TV's "Good Value 99 Nights" (聚划算99划算夜)
"Only Chinese boy group to be invited" to Korean TV station, SBS's Asia Music Festival
Various endorsements
Various magazine covers
Top resources for "fashion, exposure, promotion"

Watch the finale: