On September 18, Hu Yitian (胡一天) and his "Handsome Siblings" (绝代双骄) co-star, Zhao Yingzi (赵樱子), were rumored to be dating when paparazzi released a video allegedly of them two entering the same hotel together. Zhao Yingzi played "Hua Yuenu", who is lovers with "Jiang Feng", played by Hu Yitian.
Hu Yitian Shoots His Way into Xing Fei's Heart in "Hello, The Sharpshooter"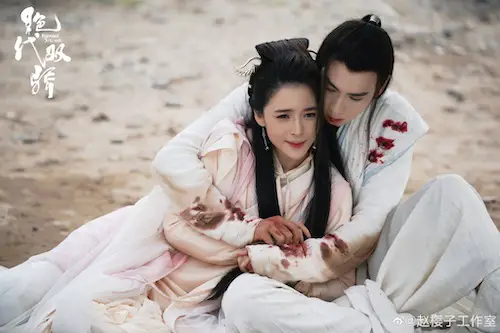 C-Drama, "A Love So Beautiful", is Getting a Korean Remake
In the video, Zhao Yingzi was escorted by her fans back to her hotel after finishing with an event. Shortly afterwards, Zhao Yingzi was seen downstairs the hotel lobby in the same clothes from the event. She was on the phone and looking to be waiting for someone. Not too long afterwards, a tall man dressed obscurely appeared and joined up with Zhao Yingzi. According to the paparazzi, the male is allegedly Hu Yitian. The two were spotted entering the hotel together.
Hu Yitian Gets Red After Kiss Scene with Bridgette Qiao Xin in "You Complete Me"
Hu Yitian is Back with Another College Romance Drama with Hu Bingqing in "Unrequited Love"
The media claims the man is allegedly Hu Yitian based on the shirt he wore that night, which he has worn previously. Sina Entertainment reached out to both parties. Zhao Yingzi's camp denied the rumors and said, "Just ordinary friends gathering for a meal. Thank you for your concern."
Hu Yitian Reveals His Struggles Filming "Handsome Siblings"