Hu Yitian (胡一天) is finally back doing what he does best. After 2017's "A Love So Beautiful" (致我们单纯的小美好), he started getting really popular. However, after his sex scandal last year, his popularity took a hit and tainted his image fans had of him from his series. His only piece of work released was this summer's "Go Go Squid!" (亲爱的, 热爱的), but he was only introduced as having a special appearance in the series. He finally got over this dark period as his new series, "Unrequited Love" (暗恋橘生淮南) just aired its trailer today.
"Goodbye My Princess" Actor, Chen Xingxu, Caught Holding Hands with Co-Star, Hu Bingqing
Hu Yitian Reveals His Struggles Filming "Handsome Siblings"
The series is the third installment in a trilogy based on author, "Ba Yue Chang An's" (八月长安) novels of the same name. The first two series were "With You" (最好的我们) and "My Huckleberry Friends" (你好,旧时光). What's interesting is there was already a web series adaptation of this same drama starring, Zhu Yan Manzi (朱颜曼滋) and Zhao Shunran (赵顺然), that just aired in June.
Hu Yitian and Zhang Yunlong Partner Up to Solve Cases in "My Roommate is a Detective"
Zhang Mingen Reveals Break Up with Lulu Xu, Denies Dating Hu Bingqing After Being Spotted Together
Hu Bingqing stars as the female lead, "Luo Zhi" (洛枳), who was attracted to the male lead, "Sheng Huainan" (盛淮南), played by Hu Yitian, for over 10 years because of how he excels in everything. She ends up being a little envious of him and follows him to the best university. The two become closer, but because of the pressures stemming from reality, their relationship gets tested.
C-Drama, "A Love So Beautiful", is Getting a Korean Remake
Hu Yitian Shoots His Way into Xing Fei's Heart in "Hello, The Sharpshooter"
The trailer starts off with "Luo Zhi" saying, "Having a crush has always been an inherently unequal relationship. Whoever's heart is exposed first, is the one who will lose." Then there are a bunch of romantic scenes between the leads, which are very reminiscent of Hu Yitian's previous works. At one point "Sheng Huainan" says to "Luo Zhi", "Sheng Huainan love Luo Zhi. The whole world knows it. Luo Zhi loves Sheng Huainan, who doesn't know it?"
Hu Yitian Gets Red After Kiss Scene with Bridgette Qiao Xin in "You Complete Me"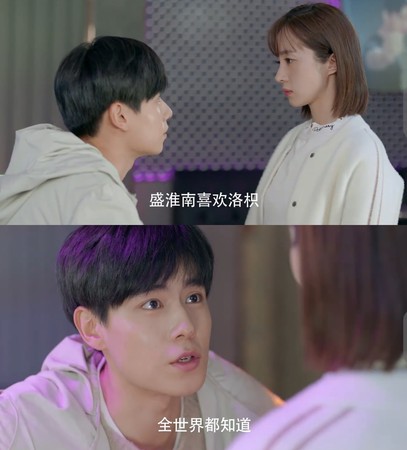 While "Luo Zhi" thinks her crush is one sided, when she is pursuing "Sheng Huainan", he is also quietly getting close to her with his actions. He does things like helping her tie her shoelaces, secretly taking pictures of her day dreaming in class, secretly looking at under the guise of reading, and holding her hand while they're riding a rollercoaster.
Will Hu Yitian gain back his fan base with this series?