Eason Chan (陳奕迅) went on a live stream last month and started name dropping current generation idols he knew about from his 16 year old daughter, Constance, or by his own accord. He named Fan Chengcheng (范丞丞), Cai Xukun (蔡徐坤), Wang Yibo (王一博), Jackson Yee (易烊千玺), and more. Eason Chan tried to sound cool to his daughter and said, "Perhaps they are more famous than me, but my status is higher than theirs."
Eason Chan Convinces Daughter How He is Comparable to Idols like Wang Yibo and Jackson Yee
Eason Chan and Fan Chengcheng finally met on November 10 as they both performed at the 2020 Tmall Double 11 Gala.
Fan Chengcheng was a Fan Boy for "Youth With You 2020" Trainee, Shangguan Xiai, on Debut Night
Fan Chengcheng Pretends to be Qin Lan's Boyfriend in Hunan TV's Mid-Autumn Festival Segment
Fan Chengcheng shared a picture he took with Eason Chan on IG story and wrote: "This is probably the happiness of chasing after stars! Hope there are even more daughters who can like me and allow me to happily chase after stars!". He also tagged Eason Chan.
Fansite Denies Rumors NEXT is Regrouping with New Members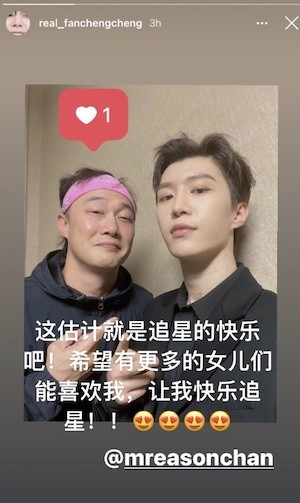 At a separate event, he was asked if he knew Eason Chan's daughter really liked him. Fan Chengcheng expressed he saw it and wanted to say to Eason Chan's daughter, "Your dad is the one who is the best."