YUE HUA Entertainment (乐华娱乐) issued a statement around 1 AM on December 27 about an anonymous person who deliberately called the police on Wang Yibo (王一博). The incident took place on December 26 while Wang Yibo was resting while filming at Hengdian. YUE HUA's statement said the police arrived at the scene immediately once they received the anonymous police report. Wang Yibo actively cooperated with the authorities in their investigation. After they concluded their investigation, it was proven Wang Yibo was innocent. YUE HUA said this was someone deliberately engaging in criminal behavior by filing a false police report.
Wang Yibo Closes Out 2020 with Record Breaking Single, "The Rules of My World"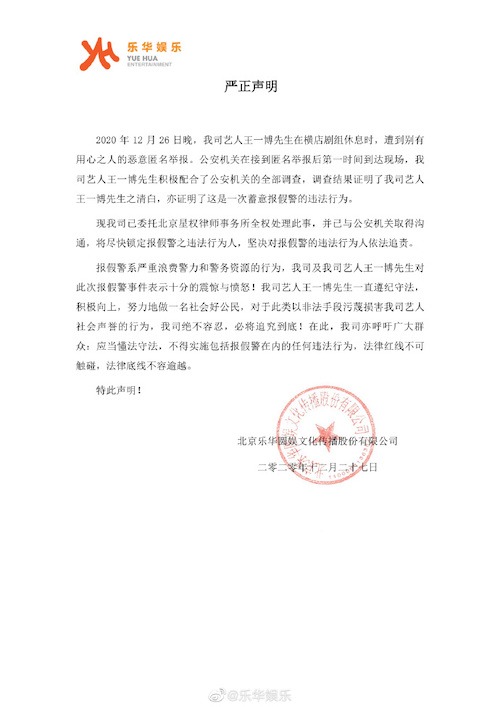 Wang Yibo Said He Might Not Be Able to Be Friends with His Character, "Xie Yun" from "Legend of Fei"
Wang Yibo's official promotional account reposted the statement from YUE HUA. Wang Yibo also reposted the statement shortly after and said, "Good prevails evil! Good prevails evil! Good prevail evils! People who like me and people who hate me must all abide by the law! Abide by the law! Abide by the law!!!"
Wang Yibo Finally Updates Instagram Because of Wang Leehom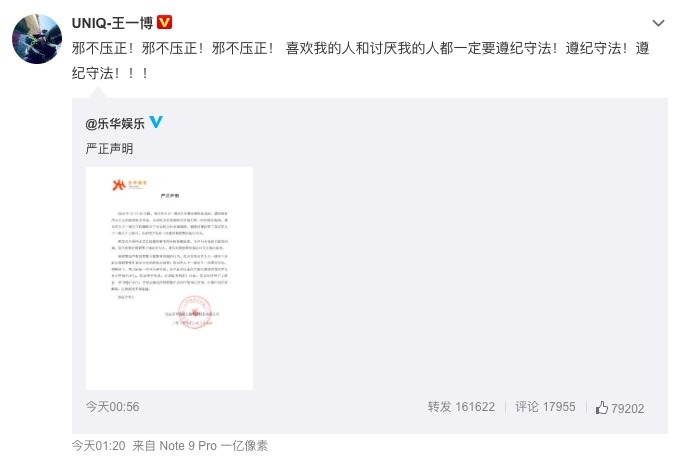 Wang Leehom and Wang Yibo Gave Concert Quality Performances at HunanTV's "New Year Concert 2021"
YUE HUA Entertainment is cooperating with the authorities to find this person and pursuing legal action against them for committing this crime. YUE HUA said Wang Yibo was extremely shocked and angry at this false police report incident. They said Wang Yibo has always abided by the law, actively advanced himself, and has been a good citizen. The company emphasized they won't tolerate this kind of criminal behavior.
This incident comes on the cusp of Wang Yibo releasing his new single, "My World's Rules" (lit. 我的世界守则), on December 30. He has been teasing the new song the past few days.
Wang Yibo's Team Clarifies Mystery Over Woman Shown in Reflection of Wang Yibo's Ring in Oasis Post