If you have been a fan long enough, you will remember Wang Yibo (王一博) has an Instagram account that he doesn't update often. His last update was from August 5, 2020. Wang Yibo's Instagram finally had some activity recently to the delight of his fans, all thanks to Wang Leehom (王力宏).
Wang Leehom and Wang Yibo Gave Concert Quality Performances at HunanTV's "New Year Concert 2021"
Anonymous Person Deliberately Files False Police Report on Wang Yibo
Wang Leehom and Wang Yibo were both performers at the Hunan TV New Year 2021 Concert on New Year's Eve. Wang Leehom performed his song, "Descendants of the Dragon" (龍的傳人), where Wang Yibo was featured in the performance and rapped alongside his idol.
Wang Yibo Closes Out 2020 with Record Breaking Single, "The Rules of My World"
Wang Yibo Said He Might Not Be Able to Be Friends with His Character, "Xie Yun" from "Legend of Fei"
On January 3, Wang Leehom posted his performance with Wang Yibo and wrote in the caption, "And special guest Wang Yibo. This kid has GOT IT! Singing with Wang Yibo, this kid is incredible!" The post was also liked by Jay Chou.
YUE HUA Entertainment Refutes Rumors Wang Yibo was Hooking Up with an Internet Celebrity Driving a Red Sports Car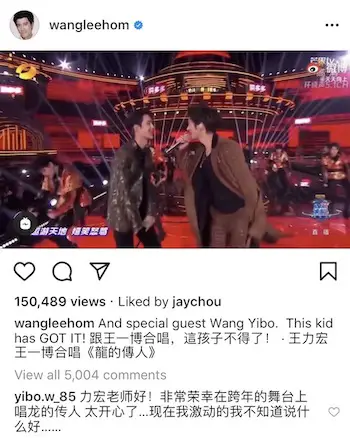 Wang Yibo's Team Clarifies Mystery Over Woman Shown in Reflection of Wang Yibo's Ring in Oasis Post
Wang Yibo left a comment on the post and said, "Hello Leehom-laoshi! Extremely honored to be able to sing 'Descendants of the Dragon' on the stage during New Year's Eve. Too happy…I am so excited right now that I don't even know what to say…"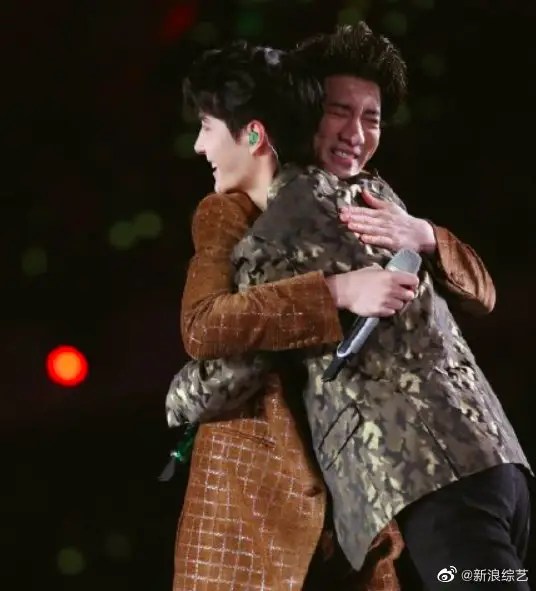 Fans and netizens were ecstatic at the interaction and are asking for Wang Leehom and Wang Yibo to collaborate again. Wang Yibo's fans also left comments asking when he will update Instagram again.
Hours later, Wang Leehom responded to Wang Yibo's comment and said, "No need to say anything, your fans already said it all. (My DMs are already full.)"