With 2021 descending upon us, celebrities are getting ready to wrap up 2020 with New Year Eve's celebrations and performances. Wang Yibo (王一博) decided to grace fans with his last single of 2020, "The Rules of My World" (我的世界守则), which was released on December 30.
Wang Yibo Said He Might Not Be Able to Be Friends with His Character, "Xie Yun" from "Legend of Fei"
Prior to the release of his song, Wang Yibo also bid farewell to 2020 on his December 29 post, saying, "2020 will soon come to an end. Looking back on this year, I did a lot of things I liked. I believe you guys also grew up, gained a lot, of course, there are also some regrets. But more importantly, we didn't concede during this difficult year, didn't stop working hard on a better version of ourselves. I hope my good night voice message is able to warm you up during this winter. #2020Iwanttosaytoyou# give 2020 a perfect ending! Wishing the new year to be safe, sound, and smooth."
Cast Rallies Support for Wang Yibo's New Song for "Legend of Fei" OST After it Trends for "Sounding Bad"
His good night voice message said, "I am today's good night ambassador, Wang Yibo. Before this year ends, we must do things that will give 2020 a perfect ending. We won't be bringing any of the regrets from 2020 into 2021. Good night."
Wang Yibo Finally Updates Instagram Because of Wang Leehom
Wang Leehom and Wang Yibo Gave Concert Quality Performances at HunanTV's "New Year Concert 2021"
After teasing fans with 4 different sets of editorial covers for the single, the actual cover art used was a compilation of 8 Wang Yibo selfies making various facial expressions.
YUE HUA Entertainment Refutes Rumors Wang Yibo was Hooking Up with an Internet Celebrity Driving a Red Sports Car
He also uploaded this picture and caption to accompany the song cover on the day of the release, "Just woke up, compiled 9 pictures to make it whole." In the Weibo posting format, the first 9 pictures are shown in the post. The 9th picture of him just waking up would complete the 8 pictures from the single cover.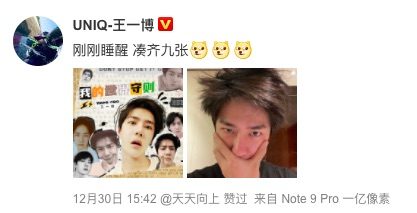 When Wang Yibo's song released on December 30 at noon, his fanbase rose to the occasion. Within 15 minutes, Wang Yibo's song, "The Rules of My World", sold 7.5 million copies, with sales amounting to 22.5 million RMB. The song reached 10 million copies in sales after 2 hours and 20 minutes of release. According to NetEase Music, the exclusive distributor for the song, "The Rules of My World" broke the record for the fastest selling digital single to reach 10 million copies sold on the entire internet. This also surpassed the previous performance for Wang Yibo's 2019 single, "Wu Gan" (No Feelings/No Sense lit. 无感), which sold 10 million copies after 10 hours and 48 minutes.
Following "Wu Gan", Wang Yibo also wrote the lyrics for "The Rules of My World". If the song gives you some YG vibes during certain parts, that's because the song was partially composed and arranged by producer, 24, who has worked with BLACKPINK, Jennie, G-Dragon, and more. He is a producer under YG's sub-label, The Black Label.