In the latest "Youth With You 3" (青春有你 3) episode that aired on March 18, the trainees are practicing in preparation for the theme song, "We Rock". Dance mentor, Lisa, monitors and reviews the trainees' progress. Lisa is monitoring a group with Jojo Tang Jiuzhou (唐九洲), who couldn't get the dance moves down and just stopped dancing. So Lisa stops the group, questions him and gives her remarks. Netizens suspect iQIYI combined Lisa's reviews from a few trainees and edited them to be shown for Jojo Tang as they noticed her stack of papers and cell phone were not consistently shown while she made her comments.
BLACKPINK's Lisa Explains Why She Chose Cai Xukun's "Lover" for Her Mentor's Performance on "Youth With You 3"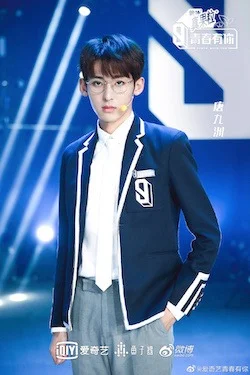 THE9's Esther Yu Gets Giddy After Adding BLACKPINK's Lisa on WeChat
Lisa asks him why he couldn't do the dance and during this scene Lisa is holding a piece of paper with the trainees' information. She then says, "If you keep dancing like this, you definitely won't be able to get out of the N class." Lisa is then shown saying the following where there is only a blank sheet of paper on the clipboard: "Won't you feel saddened?" Lisa says the following without the table shown, "Your parents are at home cheering you on (jiayou). The fans are also supporting you. They want to be able to see you stand on the stage." The camera is now focusing on Jojo Tang, while Lisa says, "They don't want to see you in N class. They don't want to see you dancing in the back where there are no cameras." The camera pans back to Lisa and she says, "Don't you feel saddened?"
"Youth With You 3" Trainee, Liang Sen, Shocks Lisa After She Sees Him and Then Mesmerizes Her After He Performs

BLACKPINK's Lisa Talks about the Evolution of Tony Yu from "Produce X 101" to "Youth With You 3"
Afterwards Lisa asked Jojo Tang if he practiced and her table is shown with the paper with the trainees' information again. The conversation continued the entire time with the original sheet of paper with the trainees' information on the clipboard. Jojo Tang explains he practiced with everyone, but can't seem to remember the steps while everyone already has it down. He promised to practice harder and won't let Lisa down.
Why are fans upset about the suspected evil editing? While fans understand there will be some editing involved, Jojo's parents divorced when he was young and was raised by his grandmother. So fans and netizens felt the comment about his parents was inappropriate, especially if it wasn't even what Lisa said to him originally. A netizen claiming to be Lisa's translator that day posted on Weibo and said this part was indeed evil edited and that Lisa's original remarks weren't what was shown in the episode.
THE9 Compete Against Each Other on who Has the Best Relationship with BLACKPINK'S Lisa

Watch the video: https://weibo.com/tv/show/1034:4616265369845768?from=old_pc_videoshow